UK brokers breakthrough
By Mzia Kupunia
Monday, October 12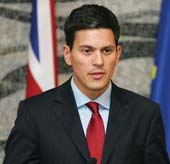 Georgia and Russia, with the help of British servicemen, conducted two joint surveillance flights over each other's territory last month. This information has become public through a note from UK Foreign Secretary David Miliband posted on the Foreign Office blog last Thursday. In his note, Miliband calls the flights, carried out as part of the Open Sky Treaty, a "success".
The treaty was adopted in 2002 and envisages establishing an Open Skies regime "for the conduct of observation flights by the States Parties over the territories of other States Parties." It is a military treaty and has no connection with the Open Sky rules regulating commercial flights. The document aims to strengthen mutual understanding and confidence between the 34 signatory states, including Georgia and Russia.
According to Civil.ge, the first observation flight was conducted in early September. It took off from Moscow and involved Georgian, Russian and UK teams manning a Swedish military aircraft. The second flight was conducted in Georgia on September 30 in an aircraft hired from Ukraine.
The UK's Foreign Secretary stresses in his note the need to build confidence between the parties in order "to progress". "That is why I applaud the success of a package of joint Russia-UK-Georgia over-flight missions that was completed last week under the auspices of the Open Skies Treaty (a military treaty unrelated to commercial Open Skies arrangements). These flights showed that progress can be made on arms control treaties even amidst the most trying circumstances. It is testament to the professionalism not just of British forces, but of their Georgian and Russian counterparts, that the missions went so smoothly," Miliband's note reads.
Miliband also touches upon the report released by the International Fact Finding Commission on the Russian-Georgian War. He writes in the blog that the Tagliavini Commission report, issued last week, is "another reminder of the importance of conflict prevention." He stresses that "there are lessons to be learnt." "The international community should ensure international mechanisms (such as the Geneva process) contribute to solutions, that all parties meet their obligations and, crucially, that those who have committed human rights abuses are brought to justice," Miliband writes. The UK Minister calls on Russia to allow humanitarian organisations and international observers into Georgia's breakaway regions of South Ossetia and Abkhazia and likewise allow internally displaced people to return home.
Georgian media outlets have reported that the Georgian Defence Ministry has confirmed the information about the flights. However the Ministry did not give any further details. The Messenger has contacted Minister for Reintegration Temur Iakobashvili seeking more details, but the Minister said he has not been informed about the flights.