Georgia is a world energy centre, says Tsereteli
By Londa Mindiashvili
Tuesday, October 13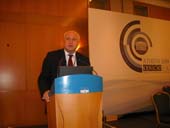 A Georgian Parliament delegation participated in the OSCE Parliamentary Assembly Session dedicated to energy security and the environment in Athens, Greece from October 9 to 12 alongside those of 55 other OSCE member states. The delegation was led by Deputy Chairman of the Parliament of Georgia Giorgi Tsereteli and Dimitri Lortkipanidze, Deputy Chairman of the Human Rights and Civil Integration Committee.
On October 11 Tsereteli delivered a speech to the assembly on energy security and regional cooperation. He stressed the geopolitical significance and role of Georgia, its solid neighbourhood policy and the successful regional collaboration between Georgia, Armenia and Azerbaijan. He stated that clear examples of that collaboration were well-known projects such as Tbilisi-Baku-Ceyihan and Baku-Tbilisi-Erzurum. Tsereteli highlighted that monopolising energy resources in order to politically manipulate other countries is inadmissible. Tsereteli also focused on the necessity of diversification and the importance of seeking alternative energy sources.
Tsereteli also outlined the achievements of Georgia's energy policy, both internally and internationally as a transit country. He pointed out the potential of Georgia as an exporter and its essential transit role in global energy projects. He also emphasised that political factors no longer affecting Georgia's ability to meet its energy supply obligations and underlined the significance of collaboration between provider, consumer and transit countries. The Vice Speaker also stressed that Georgia wanted to see stable international relations everywhere.
In conclusion Tsereteli noted that Georgia has become a world energy centre and everything will be done in order to live up to this status and improve it.