Russian military settlements will be built in South Ossetia
By Temuri Kiguradze
Tuesday, October 13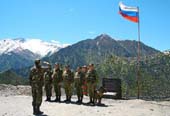 Twenty settlements for Russian border guards will be built in the Georgian breakaway region of South Ossetia "in the nearest future," states the Russian military command.
The spokesperson of the Russian Federal Security Service, which controls the border guards in South Ossetia, said that Russian servicemen will build a "Central Border Guard's office" in Tskhinvali and branch offices in four districts of the breakaway region. These settlements will replace the tent camps which currently serve as border guard bases.
The spokesperson noted that building the five settlements is already underway. "The settlements are being constructed by builders from Chechnya, and will contain all kinds of necessary infrastructure. The builders are working without taking days off," the spokesperson told Russian journalists. The construction materials are being imported from the Russian regions of Ingushetia and North Ossetia. The Federal Security Service notes that the main work of the Russian border guards is the struggle against "terrorism, contraband and drug trafficking."
Tbilisi has already made a protest against this construction. "These are not border guard settlements being built in the Tskhinvali region, they are nothing but occupation settlements. It doesn't matter what the Russians call them, they are still occupation towns and we have no mechanisms we can use to stop this," stated Georgian State Minister on Reintegration issues Temur Iakobashvili on October 11.
The South Ossetian separatist authorities state the decision to build the settlements was made under the Russian-South Ossetian agreement on cooperation, which states that Russian border guards will secure the administrative border of the breakaway region with other regions of Georgia. A similar treaty was signed with the other Georgian separatist territory, Abkhazia. Russian military bases will be built in Abkhazia as well, but on a grander scale – the Russians have announced that land, naval and air bases are being built there. "The agreement of the deployment of Russian military bases in Abkhazia will secure this country from Georgia's attempts to undermine its sovereignty and independence forever," stated the head of Russian Foreign Ministry's CIS department Andrey Kelin, speaking in Sokhumi at the end of last week. He also noted that Russian soldiers deployed in the Georgian breakaway regions should "feel comfortable and protected."
Georgian officials have repeated their protest against the Russian militarisation of the Georgian breakaway regions and appealed to the international community for mediation on this issue. Deputy Georgian Foreign Minister David Jalaghania has stated that the question of Georgia will "surely" be on the agenda of the meeting between Russian Foreign Minister Sergey Lavrov and US Secretary of State Hillary Clinton in Moscow on October 13. "The sides will spend some time on the discussion of Russian-Georgian relations and particularly Russia's refusal to fulfil the responsibilities it undertook in the ceasefire agreement," stated Jalaghania on Monday.