Public Broadcaster to have 'balanced board'
By Etuna Tsotniashvili
Thursday, October 15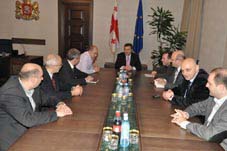 On October 13 a meeting was held in Parliament between parliamentary majority and opposition representatives and the Georgian Public Broadcaster (GPB) authorities at which agreement was reached on three major issues. It has been decided that a competition to fill seven vacant seats on the Public Broadcaster's 15-member Board of Trustees will be announced in the next few days. The functions of the Board will also be increased and the proposed 2nd channel will become political channel broadcasting opposition opinions, the opposition having long demanded this. It was announced after the meeting that on October 30 the Public Broadcaster management will present a detailed plan for creating a new political channel on the basis of the 2nd channel concept.
Despite the continual complaints of the non-Parliamentary opposition that GPB is pro-Government none of its representatives attended the meeting. The Conservative Party had intending to send representatives but none were there. "No one informed us about this meeting, and I never go anywhere I am not invited," Kakha Kukava, the Conservative co-leader, said, adding that if invited they would have attended the meeting.
"All those parties who expressed an interest and took part in the consultations will be able to select members of the GPB Board," Parliament Speaker Davit Bakradze told journalists after the meeting. In accordance with a suggestion from the President NGO's and civil society will nominate the 15th member of the Board. The legislative amendments necessary to increase the Board's functions will be discussed in Parliament and Public Broadcast will take an active part in drafting them.
Bakradze stated that adopting the President's suggestion on the best way to fill the Board of Trustees was the best way to address this problem. "The President's initiative of nominating 7 members from the majority party, 7 from the opposition and the 15th – from civil society gives us the chance to create an impartial, balanced Board." He said that if any politician had complaints against the Public Broadcaster the President's suggestion had given them the chance to take part in managing the station. "Those who have not taken part in this consultation process must not have any problems with the station," Bakradze noted.
The Christian Democrats also highlighted the opposition's decision, stating that if people did not like the composition of the Board and had some arguments to present they should have come to Parliament to participate in these discussions.