USAID grants USD 3 million to 8 Georgian NGOs
By Mzia Kupunia
Thursday, October 15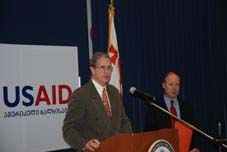 The US Agency for International Development has granted about USD 3 million to 8 Georgian NGOs working on the issues of IDPS, women entrepreneurs, environmental issues and on enhancing the dialogue between the Government and civil society.
Five of the NGOs, the Association of Persons with Disabilities in Tsalenjikha, the Caucasus Environmental NGO Network, Centre for Training and Consultancy, Georgian Centre for the Conservation of Wildlife and the Women's Fund in Georgia received grants of up to USD 500, 000 through USAID's Development Grant Programme, which according to USAID representatives is designed to attract new USAID partners and build their capacity to deal with key economic and environmental issues. The rest, the Georgian Institute for Public Affairs, Partnership for Social Initiatives and Tbilisi Business Service Centre have been awarded grants through the Improved Public Policy Discourse Programme funded by USAID. These three grants, for up to USD 200,000 each, aim to foster a more pluralistic exchange of ideas and promote more active involvement in public policy discussions.
"USAID will also provide training and technical assistance to ensure the long-term success of these partners," USAID/Caucasus Mission Director Jock Conly said at the signing ceremony on Tuesday. "This is very important to us because of the importance that we attach to the development of civil society, in order for services to be delivered most effectively to people and for advocacy with the Government to be its most effective. It is important that civil society organisations take on a prominent role. There's no real substitute for a strong civil society," he stated.
US Charge d'Affaires Kent Logsdon, who attended the signing ceremony at the US Embassy, congratulated the grantees. "All the organisations should be proud to have successfully competed for these grants. It is a very competitive process. You, the eight new partners, will be advocates for change," Logsdon said.
Lela Kakachia, the Project Director of the Tsalenjikha project, has received a USD 480,000 grant for 3-year programme. She said this will help about 550 women in the region get the training and technical assistance they needed to start their own businesses. "The project is very important and necessary in order to promote women in Tsalenjikha. The project is also interesting in terms of developing the economy of the region," Kakachia noted.