US will not deploy missile defence system in Georgia
By Messenger Staff
Thursday, October 15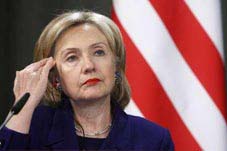 On October 14 Hillary Clinton, the US Secretary of State, denied the rumour that the US plans to deploy missile defence systems in Georgia instead of Eastern Europe.
"I have no reason to believe that elements of the missile defence system will be deployed in Georgia," Clinton told the Russian
Ekho Moskvy
radio station. She noted that she is aware that Russia is nervous about this and Washington wants to cooperate with Moscow on building a defence system which may "protect our [American] and your [Russian] peoples, together with our European friends and allies."
Clinton confirmed that Georgia was one of the topics mentioned in her negotiations with Russian Foreign Minister Sergey Lavrov and that the US and Russia "still have different positions" on the situation in Georgia. "Despite the fact that we will work hard to reset our [US-Russian] relations we will not agree on the Georgia issue," noted Clinton. "But we are also making it very clear that we expect the Georgians, South Ossetians and Abkhazians and everyone else to avoid taking provocative actions and to deal with whatever problems they have through peaceful and diplomatic means," she added. Clinton made a further statement on that issue in Moscow on October 13, soon after her meeting with Lavrov. "We do not see eye-to-eye on Georgia. We have a difference of opinion. We have made it clear that we will not recognise South Ossetia and Abkhazia," Clinton stated.
The US Secretary of State also said that the US considers Georgia to be its strategic partner. "Georgia is providing troops in Afghanistan and we are training Georgians to be able to go to Afghanistan," Clinton stated. Asked about Washington providing arms and other equipment for Georgia, the US Secretary of State underlined that "We [the US] will help the Georgian people to feel that they can protect themselves." Clinton said that the issue of US assistance to the Georgian Army had not been raised at her meeting with Lavrov. "I think this was because he [Lavrov] knew the answer to this question," commented the US Secretary of State.
Speculation that Georgia could become a site for the deployment of US anti-missile systems appeared in September 2008 after President Obama's cancellation of the proposed anti-missile shield in Eastern Europe. On September 17 at a press conference in Washington US Joint Chief of Staff General James Cartwright stated that American radar stations, which are elements of this air defence shield, were "more likely" to be deployed in the Caucasus rather than Eastern Europe. Cartwright said that radar stations in the region would allow the US to "to get the early tracks" of rockets launched from Iran.