Opposition attack "undemocratic" initiative
By Gvantsa Gabekhadze
Friday, October 16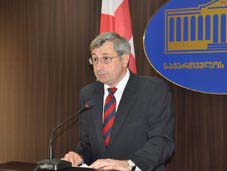 MP Gia Tortladze's initiative to introduce a Patriot Act, which would increase the powers of law enforcers to tap phones, search homes and detain those suspected of subversion, was attacked by Parliamentary and non-Parliamentary opposition members on October 15.
At a special press conference the Christian Democrats expressed their negative attitude to the initiative and suggested that an Internal Affairs Operative Technical Service Monitoring group be formed instead which would seriously monitor the activities of law enforcers. Party members Levan Vephkhvadze and Nika Laliashvili stated that what Tortladze was proposing was a fundamental contradiction of the democratic values of the country and dangerous for Georgia's security.
"Our party is really worried about this document, which may be used to legalise the politicisation of law enforcement agencies. The current illegal eavesdropping on political opponents will become legal if this proposal is approved," suggested Vephkhvadze. Laliashvili said that "we have some serious doubts concerning this document and consider that such a law will not be used properly. This is why it was not supported by our party members."
Comments have also been made by the non-Parliamentary opposition. Movement for United Georgia leader Eka Beselia suggested that this Act is actually a Government initiative voiced by Tortladze. "Our Government tries to control its political opponents. Illegal eavesdropping and searching are methods widely used by the authorities, and now they are trying to legalise this, which is unacceptable. The re-emergence of discussion about a so-called Patriotic Act has been triggered by Government members themselves and Tortladze is only voicing their ideas."
Tortladze said on October 14 that he wanted Parliament to pass a law similar to the US Patriot Act to deter foreign and terrorist threats. This issue has been raised at least twice previously by the authorities, once in 2006 and then shortly after the August war, when President Saakashvili said Georgia needed a Patriotic Act to deter possible attempts to overthrow the Government through foreign intervention. The idea was slammed by the opposition and no written draft was ever presented.
Tortladze said on October 14 that "in order to be ready for either provocations or terrorist acts we should pass a Patriotic Act. This is extremely important for the security of each of our citizens, for national security and for the unmasking of spies for foreign countries who may be in Georgia. There are explosions taking place adjacent to the occupied territories and Russia alleges that terrorists are being trained in Georgia. This indicates that something serious is being prepared by Russia against Georgia, so I think this Act is needed as some kind of anti-terrorist measure." The next day he added that the document will consist of 10 clauses and there will be no reference to eavesdropping or searching.
Pavle Kublashvili from the ruling party, who chairs the Parliamentary Committee for Legal Affairs, underlined the initiative's importance, as he saw it, for TV companies on October 15. "This is a very important issue as far as security is concerned, but how necessary such radical measures are we will only see when we can study an actual draft." He also commented on the opposition's objections to the document by saying that such radical prior estimations are incomprehensible, especially as most of those making them do not know what is in the document.
Discussion of the Patriot Act is underway, but no one from the Parliamentary or non-Parliamentary opposition intends to support it, even Tortladze's colleagues in the Democratic Party of Georgia, a group he founded.
Political analyst Soso Tsiskarishvili has told
The Messenger
that it would be better for Tortladze to go back to his previous initiatives. "I do not think that Tortladze is a symbol of patriotism in Georgia. First of all he should tell the public what happened to the lustration law he proposed and then voice some other initiatives, to show that he can not only propose but carry through initiatives as well. I advise Tortladze to concentrate on the initiatives he presented earlier."