Georgia won't talk to Russia
By Temuri Kiguradze
Friday, October 16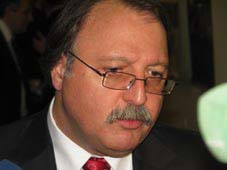 The Georgian authorities will not hold any negotiations with Russian Government until it ends its occupation of Georgian regions, Georgian Foreign Minister Grigol Vashadze said in the UK on October 14.
"There is no sense in starting negotiations with Russia while it occupies parts of Georgian territory and says that Georgia should accept this 'new reality'," Vashadze told the BBC in London. He added that "Georgia is always ready to consider Russia's interests because Russia is a Caucasus state and will never leave this region. It's very hard [for Russia] to lose a part of its Empire, however Russia should take the first step and withdraw its troops from Georgia."
The Georgian Foreign Minister noted that the reason for the "uncivilized" relations between Georgia and Russia is The Kremlin's desire to establish "total control" over Georgia. "But it will never happen," underlines Vashadze. He believes that the problem is that Russia doesn't acknowledge that Georgia is an independent country, entitled to choose its international allies independently and conduct a multi-vectored foreign policy.
"There's a delusion in Moscow: Georgia is so important in strategic and military terms and also as a transit route for alternative energy supplies to Europe that Moscow thinks it must have significant, or even total, control of the country. This we consider, quite understandably, to be the non-acceptance of our statehood, because no sovereign country will agree to be the 'zone of privileged interests' of anyone, the Russian Federation included," Vashadze said.
The Georgian Minister said Russia presents a "new face" to the world every 10-15 years, so Georgia should wait for the time when Moscow considers that the process "of getting up from its knees" [quoting a famous phrase of Vladimir Putin] is over and it is ready for civilized negotiations.
The Russian authorities have several times declared their unwillingness to cooperate with Tbilisi until the current Georgian Government is changed. "President Saakashvili doesn't exist for us, he is a political corpse," stated Russian leader Dmitry Medvedev soon after the August 2008 Russian-Georgian war. At present the only arena in which Tbilisi and Moscow negotiate is the discussions in Geneva on issues of stability and security in the Caucasus. The next round of these talks is scheduled for November 11.
Vashadze's comments were made during his visit to the United Kingdom on 11-14 October 2009. During this visit the Minister met UK Secretary of State for Foreign and Commonwealth Affairs David Miliband and Secretary of State for Europe Chris Bryan. "The UK expressed its unequivocal support for Georgia's territorial integrity and its integration into European and Euro-Atlantic structures. Particular emphasis was laid on the importance of concluding visa simplification and readmission agreements and starting talks on signing an association agreement. The sides also emphasised the significant role of the NATO-Georgia Council and the Annual National Programme in terms of Georgia's integration into NATO," said the Georgian Foreign Ministry in a special statement on the visit.