New economic development strategy
By 1Messenger Staff
Friday, October 16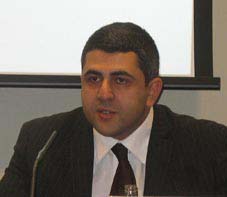 Recently appointed Minister of Economic Development Zurab Pololikashvili has informed businessmen of a new strategy being elaborated by his team. The strategy aims to utilise the opportunities the country has of attracting investors and reinvigorating the economy to the full. It would be not only a Government programme, but a wider strategy for boosting the country's economy.
Pololikashvili promised the businessmen that he would start meeting representatives of different sectors, banking, construction, industry and others, so that he could listen to all their views whilst elaborating the strategy. Pololikashvili thinks this process will take six months. He asked the businessmen to consolidate their efforts and collaborate more closely.
Pololikashvili also informed the businessmen that a special team had been created in the Ministry and world famous economists with great experience of strategic management and implementation had agreed to join it. There will be a short term strategy for a 3 year period and a long term one for 10 years. Pololikashvili supports the liberalisation of the economy and rates the Act of Economic Freedom outlined by the President highly.
The new Minister seems to be honest and willing to do something for the welfare for the country. Six months will pass quickly and the population will expect the new strategy to start working as soon as it is elaborated. Let us hope that nothing prevents the new Minister achieving viable results with what he has promised.