Tbilisi to get jazzed up for a week
By Diana Dundua and Ana Datiashvili
Monday, October 19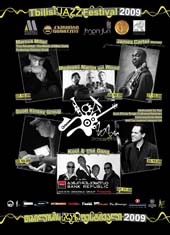 The capital of Georgia is getting ready to host the greatest musical event in the country at the end of this month. From October 27 to November 1 jazz music will conquer the city as after a 2 year break the Tbilisi Jazz Festival returns to the newly renovated Tbilisi State Concert Hall. This year's is expected to be the longest jazz festival ever held in Tbilisi as it will feature 6 days of non-stop entertainment, high quality music and incredible musical discoveries.
A number of exclusive performances will showcase the 12th Tbilisi Jazz Festival. Marcus Miller, Tutu Revisited, the James Carter Quintet, The Music of Miles Davis featuring Christian Scott, Medeski, Martin & Wood, Kurt Elling Sings Coltrane/Hartman featuring Ernie Watts, the Scott Kinsey Group, Kool & The Gang and Georgian jazz performers including the Dini Virsaladze Group and the Georgian Jazz Trio featuring Azeri musician Rain Sultanov will share 6 evenings of concerts and present an unforgettable experience to the fans.
"The Tbilisi Jazz Festival has become one of the most popular events for Georgians who listen to high quality music. It has been held since 1978 and already has become a tradition," Marketing Director of festival organizer Eastern Promotions Kakha Kandelaki told
The Messenger
on Wednesday.
Due to the renovation works at Tbilisi State Concert Hall the festival has taken a 2-year break but the Black Sea Jazz Festival, which has been held in Batumi for the past three years, has also become a tradition and given Georgian listeners another chance to experience high quality music. "For several years the Tbilisi Jazz Festival was held in summer but now the Black Sea Jazz Festival has begun it has been moved to autumn again. The 12th Tbilisi Jazz Festival will be the first stop on two-time Grammy Award winner Marcus Miller's latest tour with a totally new band. This is his second visit to Georgia, as he performed at the Batumi Black Sea Jazz Festival last year," Kandelaki told us.
The Ministry of Culture, Sport and Monument Protection, Tbilisi City Hall and numerous sponsors including Madneuli, Quartzite, the building company Redix, Sheraton Metekhi Palace Hotel, Turkish Airlines and plenty of media sponsors are supporting this event. "Preparing everything for this jazz festival was pretty expensive as approximately USD 500,000 has been spent for it but thanks to the serious support of sponsors and media partners [
The Messenger
is one of the media supporters] ticket prices have been held down," Kakha Kandelaki said, adding that the tickets were very cheap, starting from GEL 50, and a season ticket for all the concerts was available for GEL 350, giving a significant discount per concert. "There is very high demand for these tickets and this can be proved by the fact that more than half of them are already reserved," Kakha told us.
The official host of the foreign guests at the Tbilisi Jazz Festival is Sheraton Metekhi Palace Hotel. The concerts start at 8 p.m. and 10 p.m. and last an hour and a half.
Thus, "Make Your Life Jazzing!" – this slogan will unite all Georgian jazz fans while they experience a week of stunning jazz rhythms performed by living legends.