New US Ambassador Comes to Georgia
By Messenger Staff
Monday, October 19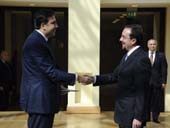 The newly-appointed Ambassador of the United States of America to Georgia John R. Bass presented his credentials to President Mikheil Saakashvili on October 16 as he took his new office.
Before meeting President Saakashvili Bass met Foreign Minister Grigol Vashadze at the Ministry of Foreign Affairs and presented further copies of credentials to Minister. At their meeting the sides discussed i the US-Georgia Charter, the situation in the occupied territories and the further development of bilateral relations between the US and Georgia. After the meeting the diplomat said he would outline his future plans at a special briefing in the near future. He confirmed that Deputy Secretary of State Alexander Vershbow will arrive in Georgia at the end of the current month.
Ambassador Bass has replaced John Tefft, who has been appointed Ambassador to Ukraine by the new US Administration. Ambassador Bass has led the Provincial Reconstruction Team - Baghdad, a joint team of civilians and military personnel supporting the Government and citizens of Baghdad province, since July 2008.
The US Embassy has stated that Bass has previously served as Chief of Staff to Deputy Secretary of State Strobe Talbott, coordinating policy and operational planning for strategic arms reduction discussions with the Russian Federation between 2004-2005. As Talbott's Special Assistant for Europe and Eurasia (1998-2000) Bass was a member of the U.S. negotiating team that brokered a settlement to the war in Kosovo on NATO's terms and shaped the composition and command arrangements of the peacekeeping force in Kosovo.
Bass has also worked widely on U.S. policies and initiatives to convince Russia to accept U.S. missile defence systems, curb weapons and technology proliferation and to decrease conventional arms in Europe. His prior assignments at the State Department include work on Turkey, Cyprus, the Benelux countries and NATO-Russia negotiations. Other foreign assignments include tours of duty at the US Embassies in Brussels and N'Djamena (Chad).