Rescuers blaze in to put out fires
By Messenger Staff
Tuesday, October 20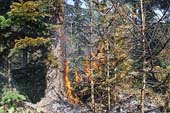 The Ministry of Internal Affairs stated on October 19 that the fire in the Latali Forest in the Mestia Region has almost been extinguished. The fire had spread over 20 hectares, and three helicopters, 200 rescuers and 100 residents had worked to put it out. The helicopters had taken off from the Senaki [Samegrelo] airfield. Another fire has also been extinguished in the village of Chorzo in the Ambrolauri region.
Davit Gagoshidze, the President's envoy to the Racha-Lechkhumi and Kvemo Svaneti regions, told news agencies that special rescue services, local people and Government representatives had done their best to normalise the situation. "Our special emergency and rescue services, together with the local people, have managed to put out the fire. The situation was really dangerous but the fire is already out and only smoke remains. The helicopters used nearly 3 tonnes of water to put it out," Gagoshidze said.
The fire in the Latali Forest started on October 18 but the cause of it is still unknown. Special service representatives say that probably carelessness is to blame. Svaneti Forest Department representative Papuna Khachidze said that there was complete mobilisation in the region. "The fire greatly intensified on the night of October 18, but the firemen, helicopters and locals managed to calm it."
Minister of Environment Protection Goga Khachidze stated on October 19 that the Ministry and the Government were working to resolve the problem and added that "Several services have been mobilized in the regions, the Forest Department and Municipality, emergency and rescue services. The fire is almost completely put out and I can now say that there is no danger to local people," Khachidze said. Head of the Mestia region administration Gocha Chelidze said that "The local government did its best to organise the mobilisation of all necessary services to prevent the greater spread of the fire and protect its citizens. Nevertheless, nearly 20 hectares of mixed forest are ruined," he added.
The fire in Racha was first noticed on October 17 and the fire in Mestia soon followed.