Georgian officials hopeful of Vershbow's visit to Tbilisi
By Mzia Kupunia
Tuesday, October 20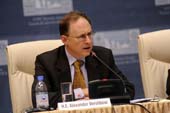 US Assistant Secretary of Defence Alexander Vershbow is paying a two-day visit to Tbilisi, leaving on the 20th. The US Embassy in Georgia has reported that the US and Georgian sides will discuss the various priorities outlined in the Strategic Partnership Charter during the meetings Vershbow will hold as part of this visit. The agenda includes discussions on democracy, security and economic development, the Embassy statement reads.
Two days prior to his visit to Georgia Vershbow said that Washington will assist Georgia in ensuring its self-defence. He said the US will "not agree" with Russia's demand for an embargo on providing Georgia with weapons.
Georgian officials have said that both the visit and Vershbow's preliminary statement are "very important" because they will bring some "tangible results" for the country. The Foreign Ministry has already assessed the visit as "one more step forward" in terms of strategic partnership between the USA and Georgia. Deputy Foreign Minister Alexander Nalbandov said on Monday that the sides would discuss some "vital" issues for Georgia.
The Deputy Minister said that Vershbow would participate in a session of the security working group set up under the terms of the Georgian-US Strategic Partnership Charter. "This will be a professional talk between professionals about the modernisation of Georgia's defence system, the participation of Georgian soldiers in Afghan peace operations and security problems in the region generally," Nalbandov stated, adding that some other issues might also be raised during the meeting.
Nalbandov also commented on the possible placement of anti-missile systems in Georgia. He said that US has not asked to discuss this with Georgia. "However if there is such a request, Georgia is ready to discuss this issue," Nalbandov noted.
Some political analysts are more sceptical about the importance of Vershbow's visit. Political commentator Gia Khukhashvili has suggested that the visit is merely aimed at "recruiting Georgian soldiers" for the Afghanistan mission. "I am not sure if the USA is ready to give defence guarantees to Georgia," Khukhashvili told The Messenger. "However, of course, the Georgian Government will try to take the advantage of his visit to Georgia to pursue Georgia's interests as well," he said.