No results, "as expected", from South Ossetian meeting
By Temuri Kiguradze
Tuesday, October 20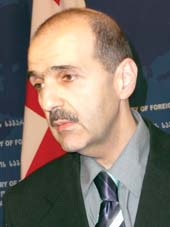 The issue of missing South Ossetian residents was among the main topics of discussion at the meeting between the central Georgian authorities and de facto Government of the breakaway region on October 19.
The meeting in Ergneti village was held as part of the Incident Prevention Mechanism established at the talks on Caucasus security issues in Geneva. However it was not a scheduled meeting, having been specifically requested by the OSCE Greek Chairmanship's Special Representative, Haralambos Christopoulos.
Speaking after the meeting the South Ossetian side said that the Georgian delegation's position on the issue was "unconstructive" and unhelpful. "Five of our citizens are considered to be missing by the Georgian side and the OSCE, but we know that they are being detained by Georgian law enforcers," stated head of the South Ossetian delegation Merab Chioev after the meeting. The South Ossetian separatist authorities are accusing the Georgian side of the "illegal detention" of their residents while Tbilisi says that the individuals concerned are merely missing and has promised to assist efforts to find them.
"We don't expect any kind of positive results from these meetings or any others, but the fact of them being held is itself positive," Georgian Deputy Foreign Minister Alexander Nalbandov commented at a Monday morning press conference in Tbilisi. Nalbandov underlined that the Georgian side is "always constructive" at these meetings "unlike the other parties to the discussions."
"These meetings may be not as productive as we [Georgian side] would like them to be, however they are absolutely necessary at this time," says conflict analyst Paata Zakareishvili. Speaking to The Messenger on October 19, Zakareishvili noted that the meetings allow the central Georgian authorities to "feel the pulse" of the real situation on the ground in the conflict zones. "The negotiations in Gali and Ergneti are just an exchange of points of view between the Georgian, secessionist and Russian authorities, but they are our only means of contact with them and this allows us to obtain vital information on what is going on in those regions."
Paata Zakareishvili believes that the Georgian side could get more results from these meetings by changing the way the Georgian delegation presents its point of view. "We should stop just making political statements and put more effort into resolving the everyday problems which exist in the conflict zones," he says, underlining however that this attitude will meet with strong resistance from the Russian military command, which also attends the incident prevention meetings. "That's why Georgia should try to establish direct dialogue with the de facto Abkhaz and Ossetian authorities, without the interference of Russia. Of course this will not be easy, because not long has passed since the end of the military actions, but according to the information I get from Abkhazia and South Ossetia this may be a quite realistic possibility, so we have to at least try," concludes Zakareishvili.