Parliament Speaker visits US
By Messenger Staff
Thursday, October 22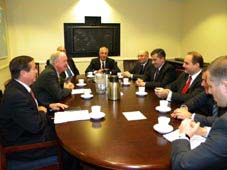 As part of his official visit to Washington David Bakradze, Speaker of the Parliament of Georgia held a meeting at the Atlantic Council on October 21. The political-economic situation in Georgia and security issues were the main topics discussed.
At the meeting with Frederick Kempe, the Atlantic Council's President, and the Council leadership Bakradze talked about the ongoing reforms in the country and its integration with NATO. It was said that to eradicate the threats against Georgia US support is vital. "Georgia's best defence against the threats in Russia-Georgian relations is the continuation of its political and economic development," stated Kempe.
On Wednesday Bakradze met William Burns, the US Deputy Secretary of State, and discussed the relationship between Georgia and the US. William Burns underlined the US interest in supporting Georgia as a strategic partner. The sides discussed Georgia's participation in the peace operation in Afghanistan. Bakradze provided Burns with information on the situation in the occupied territories and Georgia's relationship with international organisations, among them NATO, was underlined.
At a meeting with the leadership of the International Republican Institute Bakradze also discussed the ongoing political events in Georgia. The Parliament Speaker provided information on the current reforms in the country and the role of the Georgian Parliament in this process. Representatives of the International Republican Institute (IRI) confirmed their readiness to prolong their economic projects in Georgia, and as part of this cooperation will continue within the framework of the Millennium Challenge Programme.
At a meeting with John Tanner, US Congressman and President of the NATO Parliamentary Assembly, Bakradze discussed the problems of Georgia's integration with Euro-Atlantic structures. At this meeting, held on October 20, it was decided that the autumn session of the NATO Parliamentary Assembly will discuss the issue of Georgia and prepare a corresponding document.
Bakradze also met Assistant Secretary of State Philip Gordon, with whom he discussed a wide spectrum of Georgian-American relations in different fields. The sides talked about the situation which has been created in the occupied territories of Georgia. It was mentioned that the US is interested in seeing stability in the country and the region. Gordon highlighted that the US continues to support Georgia.