Another train explodes in Western Georgia
By Temuri Kiguradze
Thursday, October 22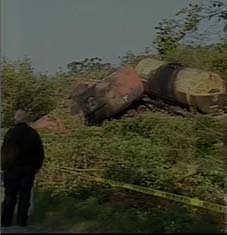 Twelve railway wagons containing black oil derailed after an explosion in the Samegrelo region of Western Georgia on October 21. While no injuries were reported, the blast was so strong that it broke the windows of nearby houses.
"The blast occurred on the Senaki-Poti line near Teklati village. 150 metres of track were damaged," stated the head of Georgian Railway Irakli Ezugbaia. He added that the demining team had already finished its work and the company was repairing of the line, but "the damage has yet to be estimated."
The cargo train was transporting the oil to the Black Sea terminal at Kulevi, according to local officials. The Georgian media has reported that some of the oil leaked after the derailment.
Spokesperson for the Georgian Ministry of Internal Affairs Shota Khizanishvili confirmed to
The Messenger
that a criminal investigation into the incident has been begun, but refused to give details of it or comment on any possible connection with earlier explosions in Western Georgia. It is assumed that TNT was the explosive used to cause Wednesday's blast.
The explosion was the fifth incident on Samegrelo region railway lines since this summer. The most recent previous blast occurred in Zugdidi, capital of Samegrelo, when an explosive device went off at the town's railway station early on September 15, damaging a passenger carriage. Referring to these earlier incidents, Georgian State Minister on Reintegration Issues Temur Iakobashvili noted that these explosions were designed to "frighten the citizens." "In fact we are dealing with a provocation, and I can say even more – it's a terrorist attack," stated Iakobashvili in September.
One man was injured in a similar incident, in which an employee of Zugdidi railway station was "badly hurt" after an explosive placed in an empty train carriage went off on June 10, the Georgian Interior Ministry said. A separate blast occurred 30 minutes later after an explosive placed in a trash can at the same railway station went off and in a third case where an explosion hit a truck outside the local police station in Zugdidi at 2:50am local time on June 11, the Interior Ministry said. No one was injured in the two latter explosions.
"These explosions have been carried out by forces which are not interested in seeing stability in this region," the Interior Ministry said in a statement. The Samegrelo region borders the Georgian breakaway region of Abkhazia. Despite the fact that the Georgian authorities have not directly accused Abkhazian separatist forces of being behind this incidents, the Sokhumi de facto Government has made a statement denying participation in the blasts, saying they were the result of "internal conflicts" between Georgians in the district.