Open Society Foundation presents monitoring results
By Messenger Staff
Friday, October 23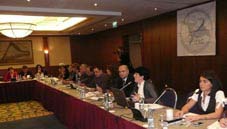 On October 22 the Transparent International Aid to Georgia informal NGO coalition founded by the Open Society Georgia Foundation (OSGF) presented the results of its year long monitoring of how the USD 4.55 billion pledged by international donors to help Georgia recover after August war has been used.
Georgia has spent USD 1.2 billion of this aid already, Executive Director of the OSGF Keti Khutsishvili said. "Most part of this money was spent on building houses for the refugees, restore the road infrastructure and strengthen the banks," Khutshishvili noted at the presentation at the Courtyard Marriott Hotel.
During the monitoring some "positive and negative" tendencies had been revealed, she noted. "The positive tendency was that the Finance Ministry was open and would hand in the detailed documentation requested by us quite routinely," Khutsishivili stated. "As for negative tendencies, there were some violations of the tender processes," she added. She said that the winner of a tender usually asks for a certain some of money in their actual proposal but while the work is going on they ask for more, which Khutsishvili said is a violation of Georgian legislation.
Deputy Finance Minister Dimitri Gvindadze said that the motto of the Ministry is to be open and ready to provide information on how the money allocated by donors is spent. "With this aim there is information posted on our website about the spending of this money," he said. However some opposition members attending the presentation, including Conservative Party leader Kakha Kukava, Manana Nachkhebia of New Rights and Niko Orvelashvili from the National Forum, were quite critical of how the money allotted had been spent. Orvelashvili told
The Messenger
that many procedural violations in the awarding of tenders had been identified.
The decision to allocate USD 4.55 billion to Georgia was taken on October 22, 2008 at the Donor Conference in Brussels. Donor organisations and states pledged to allocate this money over the next 3 years. The priority fields are transport infrastructure, energy projects and housing the IDPS from the Tskhinvali region.