Georgia may join NATO without MAP
By Temuri Kiguradze
Friday, October 23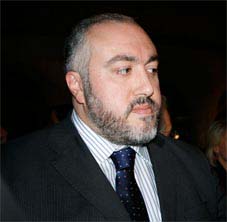 The Georgian authorities believe that obtaining a Membership Action Plan (MAP) is not the only way Georgia can become a member of NATO.
"We may join NATO without MAP," Georgian State Minster on Reintegration Issues Temur Iakobashvili told Georgian journalists in Tbilisi on October 22. "We have a mirror mechanism for the process of NATO integration – an annual programme of actions which leads us towards membership to the alliance," stated Iakobashvili, referring to the NATO-Georgia Commission established back in September 2008 to maintain regular contacts with NATO.
"Accepting Georgia into NATO is a political step and this political step should be taken by the NATO countries," stated Iakobashvili, adding that if Georgia fulfills all NATO requirements there is a "quite real" chance for the country to be accepted into the alliance without completing a Membership Action Plan process.
This optimistic vision was shared by Georgian Deputy Foreign Minister Alexander Nalbandov, who underlined that "MAP is not the exclusive condition for NATO membership." Speaking on Thursday Nalbandov noted that "[Georgia's] integration with the alliance is quite possible and there is no exclusive way to achieve that. Our annual plan of action [within the framework of the NATO-Georgia Commission] is the way we should define the steps we need to take in the medium and long term perspective," stated Nalbandov.
In April 2008 at the NATO summit in Bucharest the alliance refused to grant Georgia and Ukraine a Membership Action Plan which would lead them towards membership of NATO but underlined that these countries "will become" NATO countries sooner or later. Many analysts expressed the opinion that Russia had put pressure on various countries in order to achieve this outcome.
"It's quite clear that Russia actively opposes Georgia's integration with NATO and protested against granting a MAP for Georgia in Bucharest and the alliance members bowed to Russia's wishes, unwilling to damage relations with Moscow," considers Georgian political analyst Ramaz Sakvarelidze, who spoke to
The Messenger
on October 22.
The analyst stated that the NATO-Georgia Commission may be an "alternative way" in for Georgia and Ukraine, as it causes Russia less irritation. "The statements of Georgian Ministers may not be just propaganda as they may seem at first sight. I consider that there are many supporters of Georgia joining NATO in the alternative way within the alliance itself," concluded Sakvarelidze.