New IDP settlement opened thanks to Germany
By Etuna Tsotniashvili
Monday, October 26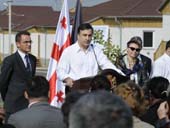 A new IDP settlement was opened in one of the suburbs of Gori on October 23. The settlement, for 300 IDP families, has been built by the German Government. The opening ceremony was attended by President Mikheil Saakashvili, who expressed his appreciation to the German Government, German Foreign Ministry officials and German Ambassador to Georgia Patricia Flor a number of times during his speech.
"We are grateful to the German Government, which has helped us at the most difficult period of our country's history," the President said, adding that the German Chancellor, Angela Merkel, was one of the first European leaders to come to Georgia and pledge support for its people.
"Last year we promised you that we would not forget you. This is a very important day in the friendship and relations of Georgia and Germany. Germany has helped us construct these houses, which are of superior quality in comparison with all other constructions in the conflict region," the President said, adding that they were much better than the previous cottages built a year ago.
Saakashvili stated that Georgia's key task is to win peace, as it is impossible for our country "to compete in violence and brutality with those forces which are based on the other side of the barbed wire [in the rebel regions]."
In his speech Saakashvili quoted the examples of Chechnya and Afghanistan. He said that it had been possible that Georgia could have been destroyed as a nation like Chechnya. He said that Georgia had had an option – "Like Afghanistan we could have fought for 15-20 years and ended up collapsed and unhappy or we could have done what Germany and other European states did and focus on "development and strengthening. They are building checkpoints… and we are building highways with the use of modern technologies; they care about their imperialistic pride and we take care of each of our citizens," Saakashvili said.
German Ambassador to Georgia Patricia Flor addressed the attendees in Georgian and said that it was a very important and nice day for Georgia-Germany friendship. "It was very important for us to help these people have homes and their future now will begin from here. Nothing can ever replace your homeland, but today you have a base from which you can begin a new life. These houses have been constructed with the support of Georgian companies and we would not be able to do anything without such cooperation," the German Ambassador stated.
Talking about the August 2008 war, Saakashvili also highlighted the situation in the CIS, which Georgia finally left about 2 months ago, stating that it is hard to gather the CIS Heads of State together to hold summits. "No one wants to attend those summits anymore," the President said, stressing Georgia's unprecedentedly high reputation at the present time.
"If you take a look at [the region], from the Central Asian states and our neighbouring countries to the countries west of Russia, in Eastern Europe, Georgia has never before had the high reputation and authority it has today. A year ago everyone bet on Georgia's disintegration and destruction. A year ago one of the friendly Eastern European heads of government told me that the Georgian Government was being given only 20% chance to survive, because the invader had sworn that this Government would not survive," Saakashvili said.
Thanks to the German Government's assistance either all the housing problems of IDPs have been resolved or there will continue to be thousands of families living in public buildings in Tbilisi, still waiting for their promised financial assistance or new home.