Gamsakhurdia to retake his Parliamentary seat
By Mzia Kupunia
Monday, October 26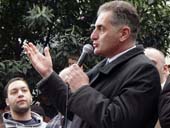 Leader of the Freedom Party Konstantine Gamsakhurdia said on Friday that he is returning to Parliament, more than a year after he and other opposition party members tore up their mandates as a sign of protest against "ballot fraud" during the May 2008 Parliamentary Elections. "After consultations in Europe and the US, and my personal point of view, I have decided to enter Parliament," he said.
Gamsakhurdia said he would work with the Parliamentary Commission set up to investigate the death of his father, Georgia's first President Zviad Gamsakhurdia. He said he might also join the group working on election code reform.
Some non-Parliamentary opposition parties have criticised Gamsakhurdia's decision, saying that he has violated the agreement of the united opposition. The leader of the People's Party, Koba Davitashvili, has said that Gamsakhurdia has become a "political pensioner". "The united opposition made a decision [to refuse to enter Parliament] and nobody has the right to violate it," Davitashvili said.
Meanwhile, Davit Usupashvili from the Republican Party has said "all political leaders decide their own future themselves." "This was the decision of Konstantine Gamsakhurdia, I don't have the right to criticise it," Usupashvili stated.
Parliamentary opposition representatives say that some other "radical" opposition members are also having consultations about returning to Parliament. "However their identities remain secret," Jondi Baghaturia from the Georgian Troupe said. "I hope the consultations will end with a positive result," he said. "Some non-Parliamentary opposition leaders want to reclaim their seats but they are not brave enough to do this and are therefore scolding the one who has agreed to enter Parliament," Baghaturia added.
Unlike the "radical" opposition leaders ruling party MPs have hailed Gamsakhurdia's decision. "It was the right step, and indicates the advancement of the political culture in Georgia," MP Goka Gabashvili said. "Entering Parliament means that the political culture of the country is being formed. Parliament is the place for holding debates and making political decisions," he noted.
Some analysts say that opposition members entering Parliament "one-by-one" will not change much for the country. "They need to enter Parliament together, otherwise there is no point in this," political analyst Mamuka Areshidze has said. "Konstantine Gamsakhurdia alone will not be able to change the way Parliament works," he told
The Messenger
.
The amendment to the Constitution which will allow ten opposition politicians to reclaim their Parliamentary mandates was approved on September 11 by the Georgian Parliament. The amendment was proposed by President Mikheil Saakashvili.