Tbilisi comes alive for its annual celebration
By Etuna Tsotniashvili
Monday, October 26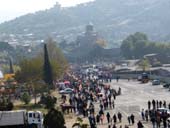 With the new motto
I Love Tbilisi
,
Tbilisoba 2009
began on Friday. A day to celebrate the capital,
Tbilisoba
is a relatively recent event in a country rich with tradition.
On October 23 a traditional autumn festival opened in Mtatsminda Park, followed by the festivals of fruit and flowers and mass wine-making at Europe Square.
I love Tbilisi
- is the slogan of a new public movement established in Tbilisi. Artists, craftsmen and private citizens have joined the organisation for one purpose - to enhance the appearance of Tbilisi and share innovative ideas about the development of the capital. Organisation members will be working together and discussing what should be done to turn Tbilisi into one of the most beautiful cities in Europe. Any person wishing to participate in the historic process of making Tbilisi prettier can join the new movement.
The most beautiful scene was the raft procession along the Mtkvari River on Saturday, which many people enjoyed. On the same day grapes were trodden in a huge vat and any volunteers were welcome to press the wine. Tbilisi City Hall had bought six tons of grapes in Kakheti for this purpose. The Tbilisi Mayor and other representatives of the municipality were present in Europe Square.
The restaurants on Sharden Street were decorated with fruit. The Fruit Festival was followed by the Flower Festival, in which dozens of species of pot and decorative plants were exhibited in Sharden Street. Another event was an auto show on Rose Revolution Square. Old and new cars were exhibited, including about 30 vintage cars.
The third day of celebrations began with a competition of falconers. About eighty birds of different species, such as falcons, hawks and sparrow hawks were set to hunt birds and rabbits.
In Mtatsminda Park a parade and folklore festival was held. Members of about 600 folklore and variety ensembles from six Georgian regions participated. Concerts were held simultaneously in different parts of the park. Puppet shows and exhibitions of children's paintings were also held. The event was organised by the Georgian Folklore and Tourism Association and the Mtatsminda Park administration.
Tbilisoba
ended with a grand concert on Freedom Square last night.
This is the 30th year
Tbilisoba
has been held in Tbilisi. It was founded by ex-President Eduard Shevardnadze 30 years ago when he was a Communist leader of Georgia and since then has become a big festival not only for
Tbiliselebi
but for all Georgians, who come into the capital every year to participate in the celebrations.