New military exercises begin in Georgia
By Temuri Kiguradze
Monday, October 26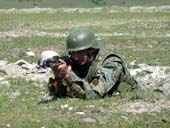 Georgian troops are currently taking part in two-week long military exercises with US trainers which began on October 24.
According to the US Embassy the purpose of the exercises, entitled Immediate Response, is to prepare the Georgian military for peacekeeping operations. "The programme is specifically designed to enhance Georgia's ability to conduct joint counterinsurgency operations in Afghanistan with U.S. forces. We commend Georgia for its voluntary contribution of forces to the critical mission in Afghanistan," the Embassy stated.
The US announced its plans to provide training for Georgian troops soon after the Georgian Parliament approved President Saakashvili's initiative to send Georgian servicemen to Afghanistan. One company of Georgian troops will head there this autumn and will serve under French command. In 2010 a further battalion of Georgian soldiers will join the peacekeeping operation in Afghanistan; this will serve with American units.
The Georgian authorities note that the participation of the country in international peacekeeping operations brings Tbilisi closer to integration with NATO. This point of view is supported by officials of the alliance as well. Speaking at a news conference after a meeting of NATO countries' Defence Ministers in Bratislava on October 23, NATO Secretary General Anders Fogh Rasmussen said that Georgia's contribution was "a very important signal" and "a positive step" within NATO-Georgia cooperation. "We welcome all contributions to our mission in Afghanistan, because from the military point of view we need these contributions. So the Georgian decision is greatly appreciated, we welcome that," he said at the news conference. Georgian Defence Minister Bacho Akhalaia also attended the meeting in Bratislava.
Coinciding with the US-Georgian military trainings the separatist Abkhazian forces have also conducted military manoeuvres in the Kodori Gorge – the region taken over by the de facto regime during the 2008 August Russian-Georgian war. These manoeuvres involved armoured vehicles and heavy artillery and infantry units from the separatist region.