TBC decreases interest rates on loans
By Messenger Staff
Tuesday, October 27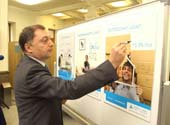 TBC Bank is further strengthening its activities on the credit market and is now offering the lowest consumer loan rates in Georgia. The decrease of loan interest rates and a simplification of the terms for obtaining loans have recently been carried out by the bank administration to facilitate the improvement of the economic environment of the country. It is now much easier to take TBC Bank loans for auto, real estate and consumer purchases.
In 2008, due to the world economic crisis, all banks increased their loan repayment interest rates and toughened loan issuing procedures. In the current year, due to its successful anti-crisis strategy, TBC Bank has managed to achieve very serious financial indicators and mobilise resources which have given the bank the possibility to utilise its strong position to finance clients on comfortable terms and facilitate their financial reliability.
TBC Bank started the simplification of its loan procedures in August and since October 26 it has minimised interest rates and issued consumer loans at an annual 21.20% over 5 years for a maximum amount of USD 20,000, mortgages loans at an annual 14.9-19.9% over 10 years for a maximum amount of USD 150,000 and auto loans at an annual 20% when purchasing from car dealers, and 20-26% when buying second hand cars, the maximum loan here being USD 30,000.