Georgia to send delegation to Israel over airline dispute
By Mzia Kupunia
Tuesday, October 27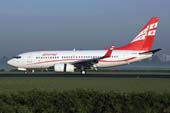 The Georgian Foreign Ministry has said that a special delegation will be sent to Israel in an attempt to resolve the disagreement over flight schedules between Georgian and Israeli air companies.
Speaking at the traditional Monday press conference, Deputy Foreign Minister Alexander Nalbandov said that the delegation will leave for Tel Aviv in the next couple of days, presumably on October 27. "We will try to resolve the problem by Thursday, the flight day," Nalbandov said. The Deputy Foreign Minister added that a flight from Israel to Georgia was cancelled on Sunday but passengers managed to reach their destination on a transit flight.
Georgian Airways has accused the Israeli air company Arkia of scheduling flights to Israel on Tuesdays, Thursdays and Sundays which coincide with the Georgian company's flights. According to Georgian Airways Arkia is thus trying to gain their passengers. Consequently the Georgian Transport Administration has refused to approve Arkia's winter schedule and the Israeli aviation authorities have responded in kind.
The Israeli side has laid the responsibility for the suspension of the flights on the Georgian air authorities. Israeli Transport Ministry spokesperson Avner Ovadia has said that Georgia rejected the Arkia schedule before it did likewise. "Israel was forced to respond in the same manner," ynetnews.com quoted him as saying. According to the Israeli official the Georgian and Israeli sides signed an agreement about air flights during the winter period. "Each of the countries would have three flights every week," he said, adding that the reason for the Georgian Transport Administration's subsequent refusal to sanction the flights to Georgia was "unclear and a bit strange."
This issue was discussed at a meeting between Georgia's Deputy Foreign Minister Nalbandov and Israel Ambassador to Georgia Itzhak Gerberg on October 23. A note posted on the Foreign Ministry's website says that the sides agreed to take "all necessary measures to create profitable conditions for the air companies of both friendly states."
Georgian MPs have called on the Government to "defend Georgian business". Christian Democratic Movement members held a special press conference on October 22 urging the Government and the public to support Georgian Airways. "The interests of Georgian Airways today equal Georgia's national interests," Nika Laliashvili, from the Christian Democratic Movement, said. "It is true that the market regulates itself, but this is a case when in conditions of brutal competition, Georgian business needs the assistance of the State at some point," Laliashvili stated.
Georgian Airways says it has been conducting flights to Tel Aviv three times a week for many years. "Arkia entered the Georgian market just three years ago and at the beginning of every new season it artificially creates huge problems for us. It is trying to find its place on the market by pressurising another company," the spokesperson of Airzena Georgian Airways, Nino Giorgobiani, said.