Young people in Gori gain new facility
By Messenger Staff
Tuesday, October 27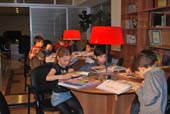 On October 26 a new Children and Youth Centre was opened in Gori, the ceremony being attended by local dignitaries and UNICEF and Council of Europe representatives.
The centre will be managed and administered by the Gori Municipality in cooperation with the Gori Education and Resource Centre of the Ministry of Education and Science. UNICEF and the Council of Europe Development Bank have renovated and refurbished the entire building and provided financial and technical assistance and essential supplies to the Centre. UNICEF has also procured a special minibus to ensure the children's safe transportation.
"We are so glad that children in Gori and adjoining villages now have a place where they can learn and develop," said Giovanna Barberis, UNICEF Representative in Georgia. "Education and cognitive development are essential for children. A UNICEF commissioned study demonstrated inadequate knowledge and practices among parents and families in the areas of care for young children, healthcare and development. Responsive parenting and early stimulation practices were found to be inadequate in at least two thirds of families and 56 per cent of families do not have the resources to promote early child development (i.e. books, toys). This is especially important for those children who have been affected by last year's conflict, and education for them is also an opportunity for stress relief and rehabilitation. The centre will help these children have access to books and learning programmes as well acquiring various skills for their further development and socialisation," she stated.
"The centre will be used as a model," says Zurab Chkheidze, Deputy Head of the Gori Municipality. "This is very important for us as it contains elements that have not been financed before by our municipality. Through the centre we are going to launch many interesting projects."
The centre will serve children and young people aged 5–24 from the city of Gori and the villages of the Gori Region. There are four aspects to the centre: pre-school education, drama, journalism and youth. The centre has a library and reading room. It will allow internally displaced and local community children to have access to textbooks, picture books, literature and reference books and enjoy computer classes, drama and recreation and sports activities. This will help children to develop their literacy skills and their interest in reading and learning, and will also contribute to the further growth and development so essential for school success.
The early childhood learning programme will enhance the development and wellbeing of young children and prepare them for school and beyond. Quality preschool activities prior to school entry will provide structured learning opportunities and the emotional stability children need to realise their full potential. The journalism programme, drama class and youth club will enable young people of different ages to meaningfully use their leisure time for learning and development.