A taste of America comes to Courtyard Marriott
By Salome Modebadze
Wednesday, October 28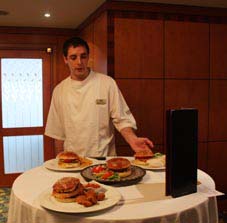 On October 27 the Courtyard by Marriott Tbilisi, presented a Burger Promotion Menu to its visitors. The menu looked really tasty and offered a nice choice to its guests.
Francois Jolivet, Executive Sous Chef of the hotel, explained the reason behind the Burger Promotion to
The Messenger
. "Hotel Marriott offers its guests a special menu each month. This time we have chosen a Burger menu which can satisfy the demands of people with different tastes. All the burgers are made in a few minutes and served with a special sauce and one free draught local beer of their choice."
Dietmar Platz, the hotel's Director of Food and Beverages, spoke about the meaning of the burger for American visitors. "Hamburgers are an important part of the American lifestyle. So we decided to offer our foreign, and not only foreign, guests a variety of burgers made from natural products. Everybody in Tbilisi thinks he can make burgers but it's important how you do it," he said.
Dietmar Platz stressed once again that all the ingredients in the burgers are natural and safe. The Double Decker, made of two layers of beef, double cheese, tomato salsa, ketchup, bacon and chicken nuggets contains a hundred percent beef and costs 25 GEL. The Sea Burger, with tartare sauce and prawn crackers, costs 22 GEL and the Chicken Burger with potato chips and a special sauce 23 GEL. The chef admitted that he himself would prefer a Veggie Burger, made from vegetarian 'steak' made with egg and cheese, mayonnaise, tabasco, tomato salsa and salad that costs only 16 GEL. This menu will be available for about a month every day from 10 a.m. to 1 a.m. The Courtyard Marriott also offers its visitors a fasting menu on Wednesdays and Fridays.
Aza Kavtaradze, Senior Supervisor, and Ana Chechelashvili, the hotel's FSB Supervisor, also spoke about plans for a Halloween Party in Courtyard Marriott on October 31. "There will be some candles, even ghosts in black suits to amuse the guests, and lots of pumpkins as a symbol of Halloween for sure," Ana explained to
The Messenger
, encouraging guests to attend from 6 p.m. till late at night.