British Council adopts strategic thinking
By Messenger Staff
Thursday, October 29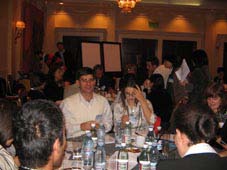 A one day conference on The Cultural Relationship between the UK and South Caucasus was held in the ballroom of the Tbilisi Marriott hotel on October 27. Facilitated by head of the British Council in Georgia Paul Doubleday, it was attended by representatives of the education and arts fields, journalists and Government officials from Georgia, Armenia and Azerbaijan, including the Armenian Ministry of Education and Young Women's Association, the Azerbaijani National Academy of Science and Georgia's National Museum and Theatre and various Ministries.
The aim of the conference was to begin the process of producing a mapping exercise, and subsequently a strategy, on cultural exchanges in the broadest sense between countries of the region. The guests of honour included Michael Bird, the new British Council Regional Director for Southeast Europe, and Sarah Ewans, the organisation's Head of Strategy. Although Georgian Culture Minister Nika Rurua, who was due to open the conference, failed to attend Catherine Fieschi, Director of Counterpoint, the British Council's think tank, proved a very able and interesting keynote speaker.
Sarah Ewans explained to journalists why everyone was there. "This is a very important conference, because it is the first time we have undertaken a mapping exercise of this scale. We are trying to find out what our priorities should be in the South Caucasus countries. All our partners are here today." Michael Bird later confirmed that the project was of global significance as the British Council sought to replicate it globally. He added that "The British Council is the sum total of its partnerships," and only in this way can such a project be made to work.
Paul Doubleday highlighted some of the issues which the cultural strategy needed to address. He said there was a lack of access to culture and information about culture, education and civil society on both sides, and that as Georgia in particular is an isolated country it would be helpful if Georgians were given more help to come to Western Europe. He also pointed out that a strong cultural relationship between countries equalled economic prosperity for both, citing as an example that the cultural sector produces 7% of the UK's GDP, a significant sum for one particular sector. He then outlined the technicalities of the mapping exercise which will underpin the development of the strategy, a process which would last well beyond the conference itself.
Catherine Fieschi pointed out that cultural activities define us professionally and personally in all kinds of ways – we learn who were are, and who others are, through culture and exchanges of culture. She gave two reasons why the development of cultural relations between different countries is vitally important. The first is that in the twenty-first century greater globalisation and greater fragmentation exist side by side and the pace of change is driving both processes along very quickly and making communication increasingly difficult. Culture gives everyone both individuality and commonalities, and fills this important communication gap. Secondly we now live in a world of increasing risk of climate change, terrorism, financial collapse and many other things. Cultural relations, based on unchanging factors and mutual support and upbuilding, are the way to counter these risks.
One area the speakers agreed was very important, following The Messenger's question, is to ensure that people have cultural relations with the actual people from other countries living around them, rather than having them purely in the abstract by simply watching theatre performances or listening to music from those countries. This theme was one of those discussed in the working groups in the afternoon, in which the representatives of different countries and different sectors outlined what they thought the priorities for developing cultural relations should be.