Tsotne Gamsakhurdia arrested again
By Gvantsa Gabekhadze
Thursday, October 29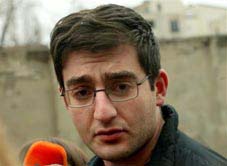 Law enforcers detained Tsotne Gamsakhurdia, the son of first President of Georgia Zviad Gamsakhurdia, on October 27. He was questioned at the Vera police station. Gamsakhurdia is suspected of wounding Davit Bajelidze, who was taken to the Republican Hospital.
The incident occurred at the Kolkhian Tower, where Gamsakhurdia lives, on October 27. Bajeladze lives in the same neighbourhood as Gamsakhurdia. The reasons for their dispute have not been disclosed and an investigation is underway.
Gamsakhurdia is already serving a sentence of non-custodial detention. He was accused of conspiracy against the Government, in violation of article 315 article of the criminal code, last year. The case was brought on the basis of video materials which showed that Gamsakhurdia had had contacts with Russians during the November 2007 opposition protest actions.
Eyewitnesses suggest that Gamsakhurdia and Bajeladze were quarreling on the evening of the incident. After this quarrel Bajeladze went home and Gamsakhurdia called upon him there and shot at him. Neighbours have stated that these two men have had a quite strained relationship lately, and this was not the first time they had argued." No one says it out loud, but everyone knows that Gamsakhurdia wounded him. He frequently visited the Bajeladzes, but lately their relationship has somehow spoiled and I heard their disputes several times," suggests one female neighbour.
After the incident Bajeladze was rushed to hospital. Doctor Davit Gotsiridze states that Bajeladze was operated on and now his condition is serious but stable. "Bajeladze had a shotgun injury in the stomach. His condition was very serious and he was urgently operated on. At the present moment his situation is stable and he has been placed in the resuscitation section, where we will continue his treatment." Gamsakhurdia was also taken to the Republican Hospital with a slight injury to his skull. Dr. Gotsiridze says Gamsakhurdia's injury was treated at the hospital and he consulted a neurosurgeon. Manana Archvadze, wife of the first President of Georgia and Tsotne Gamsakhurdia's mother, did not comment on this issue while at the hospital.
Gamsakhurdia denies committing any crime. His lawyer Dali Bekauri, who met Gamsakhurdia in interim isolator number 2 on October 28, has said that Gamsakhurdia's version is that somebody attacked him on his way home on October 27 and as a result he lost consciousness and remembers nothing. Bekauri said that Bajeladze is a friend and neighbour of the suspect. The lawyer said Gamsakhurdia denies that any incident took place with Bajeladze adding that no charge has been brought against him yet.
"Gamsakhurdia has told me that somebody hit him on the head with some heavy, blunt thing while he was on his way back to Kolkhian Tower, after which he lost consciousness. When he opened his eyes he was at the tower surrounded by policemen. Gamsakhurdia knows Bajeladze, he is his friend and he has a nice relationship with him. He cannot understand who has said that Bajeladze was wounded by him. This accusation is not true. Gamsakhurdia has no weapon and that is why he could not have wounded anyone," stated the lawyer.
At present Gamsakhurdia is in preliminary detention. The court may change the non-custodial punishment to imprisonment if a charge is brought against Gamsakhurdia.