Noghaideli goes to Moscow
By Temuri Kiguradze
Thursday, October 29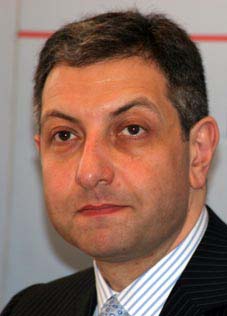 Georgian opposition politician and former Prime Minister Zurab Noghaideli held a meeting with Russian Deputy Foreign Minister Grigory Karasin in Moscow on October 27. According to the official statement of the Russian Foreign Ministry Noghaideli and Karasin "discussed the current difficult situation in Russian-Georgian relations as well as the problems of the South Caucasus region."
"We have discussed the visions of Georgian politicians on ways out of the dramatic situation. The meeting was very useful in the informational aspect and I hope it was mutually so," Karasin told Russian journalists after the meeting.
Noghaideli noted that the meeting with Karasin was not the only goal of the visit to Russia. Speaking to
Ekho Moskvy
on October 26 he underlined that the visit was part of the "public diplomacy," which should aid the improvement of Georgian-Russian relations. He announced that he also plans to meet representatives of the Abkhazian and Ossetian diasporas in Moscow.
"If Saakashvili had had a dialogue with Abkhazians and Ossetians, I would not have come here at all. It is clear that the wall between Georgians and Abkhazians and Ossetians is being built not only by those [Russian] military bases stationed in Abkhazia and South Ossetia but also, unfortunately, by Saakashvili and his circle," he said.
"The Russian position [on Georgia joining NATO] puts not only the whole of Georgia but also the Georgian opposition in a difficult position, and because of this any type of contact with Russia becomes rather difficult. In fact I am the first Georgian political leader to come here [to Moscow] and this step is fraught with some, if not serious, [political] risks," Noghaideli said. He also noted that the major goal of his party "will be the reunification of Georgia; all other things are possible mechanisms for resolving this problem."
"I consider that we should prevent a repeat of the military confrontation by conducting direct dialogue with the Abkhazian and Ossetian people and, considering our mutual interests, reestablishing economic and transport relations," stated Noghaideli at a press conference in Tbilisi on October 28 on his return from Moscow. However he added that any kind of negotiations concerning the Georgian conflict regions will be impossible without normal relations with Russia. "We have to restore these relations without any preconditions or ultimatums," stated Noghaideli, most likely referring to the statement of Georgian Foreign Minister Grigol Vashadze that dialogue with Russia is impossible until it withdraws its troops from Abkhazia and South Ossetia. He underlined that he is not afraid of the Government accusing him of having ties with Russian special services after his Moscow visit, as it did with other opposition politicians during the protest rallies in Georgia this summer. "If I had a fear of anything I would not have returned to politics," stated Noghaideli.
Zurab Noghaideli served as Finance Minister and later Prime Minister of Georgia until his resignation in late 2007. The following year he announced that he was joining the opposition and established the Movement for Fair Georgia.
The visit of the former Georgian Prime Minister was welcomed by Russian political analysts, stating that this decision showed his "pragmatism". "Noghaideli is one of the few Georgian politicians who demonstrate a pragmatic and not emotional way of treating relations with Moscow. He understands that it's not only Russia that needs Georgia, but also Georgia needs Russia," stated Russian political analyst Sergey Markedonov, as quoted by the Russian daily
Gazeta
.