Kachreti farmers present their products
By Messenger Staff
Thursday, October 29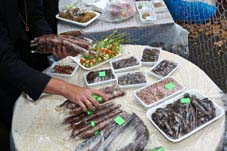 On October 28 the UN House hosted a demonstration of natural products from Kachreti – organic fruit and vegetables, jam, comfitures, marinades, processed vegetables and various sauces and juices. Churchkhela-making was organised for all throughout the day.
All the products come from the Kachreti food processing plant (Kachreti Cooperative Kitchen) and were produced by Agriculture Extension Centre-supported farmers.
The Cooperative Kitchen was set up by the UN Development Programme (UNDP) in July 2009 with funds from the Government of Romania. The kitchen provides small farmers with up-to-date technology for washing fruit and vegetables, cleaning jars, cooking, sterilising, packaging and vacuum sealing. This small-scale production facility provides a safe working environment and modern sanitary standards. The kitchen has served up to 50 small farmers to date. All products sell under the brand name Kachreti Gardens
The Agriculture Extension Centre operates as part of the Kachreti Vocational Education Centre in which UNDP is supporting vocational education and re-training programmes in the agriculture, processing and construction professions.