Channel 2 to become political channel
By Londa Modebadze
Monday, November 2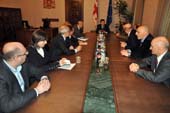 The old Channel 2 is to be reconstituted as a political channel by Georgian Public Broadcaster (GPB). It will be analogous with America's
C-SPAN
and the UK's
BBC-Parliament
and will presumably start broadcasting next year. Channel 2 will cover Parliamentary processes and political life in general. It will also give political parties a permanent platform on which to express their positions and participate in different discussions.
Speaker of Parliament Davit Bakradze met with representatives of the top management of Georgian Public Broadcaster, its Director Giorgi Chanturia, its Chairman Levan Gakheladze and Director of Channel 2 Dodo Shonava on 30 October. They discussed the transformation of the Second Channel into a political TV channel. Parliamentary minority representatives also attended this meeting. Bakradze said that all political parties will be given a chance to communicate live with TV viewers on the new channel. "Political Parties will be given equal time and the opportunity to express their political views. At the same time the work of Parliament and all the events it holds will be transmitted," noted Bakradze. He added that working meetings discussing the new channel will continue.
Giorgi Chanturia, Director General of GPB, said that the revamped political channel will give political parties a chance to present their opinions to society and express their views in the format of debates. He added that in the current state budget a sum for creating this channel reorganization was not set aside but at the beginning of the next year concrete measures will be taken in this respect.
After meeting opposition MPs stated that the channel will significantly improve political pluralism in the country. The non-Parliamentary opposition also supports the idea of establishing Channel 2 as a political channel but is sceptical about it happening. New Rights member Manana Nachkebia considers that the format of the channel suggested by the Government is unacceptable. "If the channel is broadcast all over Georgia like GPB it will be suitable but, unfortunately, I can't see that the Government is intending to do that," Nachkebia told
The Messenger
.
Viktor Dolidze stated that the Government's position about the channel as expressed at the meeting was unjust, "However, Our Georgia-Free Democrats will take part in every debate that is held on revamping the channel, the party will take every chance to try and achieve this. The idea itself is welcome, because it is a way to create a healthy environment for elections and the right way to build democracy, and we hope it will oriented on results," Dolidze told
The Messenger
.
Journalist Ia Antadze says that there are no concrete criteria by which time will be alloted to the various parties. It will be unjust if every political party has equal time. There are a lot of nuances that must be elaborated. I will comment when there is sufficient concrete information about the channel," she told
The Messenger
.