New leftists' movement
By Messenger Staff
Tuesday, November 3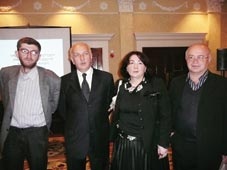 On November 3 the launch of the Social Democratic Movement for Georgia's development was held in the Tbilisi Marriott Hotel. A group of enthusiasts, scholars, professionals and public figures, led by Gia Zhorzholiani, a former MP currently a professor at Ivane Javakhishvili State University, have taken the decision to create a social democratic organisation. Their major incentive for doing this, they say, is the critical situation, both political and economic, Georgia has fallen into since it regained its independence 18 years ago.
The globalistic, liberal and neoconservative radical policies which Georgia has adopted have had unstable, inefficient and negative consequences for the country. Although espousing democratic values Georgia appears to be under threat of authoritarian rule, social injustice and the creation of an oligarchy, and a high level of poverty, unemployment and other negative consequences have followed this. Therefore the need for a centre-left political organisation has arisen, the new party says.
Of the existing parties only Labour declares itself to be leftist, but now the Social Democrats have appeared with serious claims and intentions. Until recently social democratic ideology in Georgia has been associated with the Bolsheviks, but now the new party hopes it will be associated with the European understanding of social democracy. The founders of the new party claim that social democrats are in power in more than 30 states worldwide. A draft programme, based on freedom, equality, justice and solidarity, was presented at the launch.
It is necessary for every country to have a healthy opposition, and the administration should see that there is one, and it is also necessary to have leftist parties in the political spectrum of a country alongside all the rightist ones, the public attending the launch said in discussion afterwards.