Made in Georgia
By Salome Modebadze
Wednesday, November 4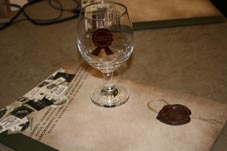 A one day workshop on import substitution entitled "Made in Georgia", sponsored by the US Agency for International Development (USAID), was held at the Courtyard by Marriot on November 3. Representatives of the Government, the private sector, donors and NGOs gathered to gauge the potential for introducing an import substitution program in Georgia.
Jock Conly, Mission Director of USAID/Caucasus, greeted the guests and emphasized that USAID was proud to initiate such an important issue. "We have undertaken several projects with the business community. Economic growth can best be driven by investing in new production facilities which employ people. So today we should all put our heads together and think how we can attract new investments into this country, reduce its trade deficit and spur economic growth. Much more can be done in Georgia than has been in the past and gathering together all the good ideas of people attending this conference will help guide the attraction of new investments and the new jobs these will facilitate. This workshop is an important event as we will brainstorm the further steps we need to take," Conly stated.
Irine Salukvadze, Acting Chief of Party of the SME Support Project, stressed the importance of increasing production in promoting exports. Aleksi Aleksishvili, Chairman of the Policy and Management Consulting Group (PMCG) clarified that the main role of the workshop is to discuss strategies for export expansion in Georgia and define the role of each sector in this process. "Utilizing international experience is very important in creating competitive advantages for Georgia, and thus relevant regulations should be imposed for the development of business and supported by the Georgian Government. But it's up to the business sector to suggest the fields where further growth is possible. It's up to them to define the pathway for overcoming the problems," Aleksishvili noted.
Malkhaz Akishbaia, Deputy Minister of Agriculture, announced the opening of two medium-sized milk producing firms in Kakheti, stating "We don't just talk but act, too." Akishbaia spoke of the importance of agriculture for the country and its potential for further development by increasing domestic production. "The participation of donor organizations, in terms of sharing the knowledge of international experts, is necessary for the implementation of the strategies defined in this sector," stated Akishbaia, who also announced that the first Donor Advisory Council will be established on November 25. He also spoke about the law on Food Safety which will be officially implemented in January 2010 and aimed at increasing exports by registering food producers and distributors, in which process the Ministry will cooperate with experts from the EU.
Zurab Alavidze, Deputy Minister of Economic Development, spoke about necessity of export supporting projects in Georgia. "About 75% of the products consumed in this country are imported, so it's urgent to define a strategy for the growth of exports as a long-term project," Alavidze noted.
Alexander Margishvili, Managing Director of Policy and Management Consulting Group, made an interesting analysis of "Made in Georgia" objectives. He presented the steps which had already been taken to get this project going and outlined the major conclusions of the research undertaken.
"The main objective of the research we have undertaken so far was to find out why the Georgian economy is so dependent on imports, analyze and discuss value creating opportunities and assess barriers to value creation. The research has shown that the Georgian economy remains highly dependent on imports, meaning that the national economy spends more money than it creates. All this of course has a very negative effect on national development. "Made in Georgia" will bring great benefits to the National Economy and increase the quality of life of Georgians, which will be reflected in increases in overall production capacity, exports, a higher quality of produced and sold goods and an increase in the employment rate," Margishvili stated. He also summarized the attitude of private companies towards imported goods, giving several main reasons why they preferred them: "According to Georgian companies local products seem to be of lower quality, cost more, are not always available and there is an insufficient or unstable supply of particular goods. But there are specific products such as construction materials, food and beverages and stationery and packing that can and should be produced locally. One of the main keys to improving the situation is better coordination between private companies, a further liberalization of the business climate by the Government of Georgia and support from international development organizations for focusing on long-term sustainability. Substituting imports is not in itself the objective of this project, it's one step towards developing Georgia's economic sustainability," Margishvili concluded.
All the participants of the "Made in Georgia" workshop had the opportunity to express their attitudes towards the issue and talk about specific ways to promote local production and achieve global market competitiveness in the long term, which means providing goods of a more competitive quality, price and supply stability.