Russian Deputy says Vashadze should lose his citizenship
By Temuri Kiguradze
Wednesday, November 4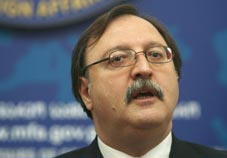 Member of the Russian Duma Semen Bagdasarov proposed to the Kremlin on November 3 that it revoke the Russian citizenship of Georgian Foreign Minister Grigol Vashadze.
According to Bagdasarov Vashadze, who has dual Georgian and Russian nationality, is "not worthy" to hold a Russian passport. "It's absurd that a close ally of the Georgian President, Vashadze, travels with a Russian passport and tries to form an anti-Russian movement. This man cannot be a citizen of Russia," stated Bagdasarov, appealing to the Russian authorities to take "all possible measures" to revoke Vashadze's Russian citizenship. The Russian Deputy has already appealed to all Duma committees that they add this issue to their agenda.
Grigol Vashadze graduated from the Moscow State Institute of Foreign Relations and once worked in the USSR Foreign Ministry. He accepted a Russian passport soon after the collapse of the Soviet Union in 1991, only applying for Georgian citizenship much later, in 2004. Vashadze did not renounce his Russian citizenship even after 2008 Russian-Georgian war. "This was his constitutional right," stated Foreign Ministry spokesperson Ia Makharashvili on November 3.
Makharashvili noted that Vashadze is aware of Bagdasarov's initiative and doesn't feel offended by it. "He is even pleased that he may join the list of such persons as Rostropovich, Solzhenitsyn and Lubimov," said Makharashvili, quoting Vashadze's reference to Russian intellectuals deprived of their passports by the Soviet authorities. Vashadze has also announced that he is not surprised by this move and even considers it to be "late in coming".
Other Russian Deputies have already reacted to Bagdasarov's initiative, stating that this decision will be "quite hard to make." "There is no court decision which states that he [Vashadze] is a traitor to the motherland. Our Constitution doesn't allow us to take such an action either," stated the deputy head of the Constitutional Legislation Committee of the Russian Duma Alexander Moskalets, as quoted by Russian news agency RIA-Novosti on Tuesday. Moskalets added that the issue of double citizenship is an internal issue for Georgia. Revocation of citizenship was common practice in the Soviet Union, whose Government would thus punish dissidents for "anti-Soviet" activity, however under the Constitution of the Russian Federation it is impossible for the authorities to deprive a person of Russian citizenship. The only way this can be done is if the authorities discover that the decision to give a passport to a person was illegal because falsified documents were presented with the application.
Grigol Vashadze became Foreign Minister in 2008, replacing Eka Tkeshelashvili. His appointment was welcomed by both Georgian and Russian political analysts, who noted that Vashadze has a lot of connections with the Russian diplomatic elite. His appointment was considered to be a sign that the Georgian Government was attempting to improve relations with Russia.
Vashadze has said several times that he is not going to renounce his Russian passport. "I am not a citizen of the Russian Government. The Government will pass, but the Russian people will stay," Vashadze told journalists soon after the August 2008 war. Speaking in October 2009 he underlined that he "doesn't feel any kind of discomfort" in having dual nationality and noted that if he does eventually decide to renounce his Russian passport he will do it "for personal reasons."