Up to 2,000 convicts to be released
By Gvantsa Gabekhadze
Thursday, November 5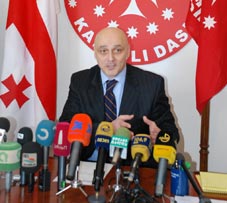 The Human Rights Protection Committee of Parliament and its Health and Judicial commitees met on November 4 to discuss the Amnesty bill. Gia Arsenishvili, the head of the Human Rights Protection Committee, stated that the proposed amnesty will apply to 1,500-2,000 people convicted under articles 260 (1st part) and 273 of the criminal code. He added that there are 298 convicts imprisoned for violating these articles, 307 of whom have not yet been sentenced.
Arsenishvili declared that the sentences of these 1,500-2,000 people will be halved. The amnesty will apply to those who committed their crimes before 15 October, 2009 and will come into force two months after bill is published.
"Generally, this amnesty concerns drug users. We listen to opposition viewpoints and attitudes on this issue," Arsenishvili suggested.
MP Jondi Baghaturia, leader of the Georgian Troupe, held a briefing on November 4 at which he suggested some amendments to the bill. He said that the amnesty should apply to convicts sentenced under the whole of article 260 of the criminal code, not just the first part.
"We view the possible amnesty positively, but think that that it should concern those sentenced under the whole of article 260 completely, as the difference between these two categories is only that they are users of different kinds of drugs," stated Baghaturia, who added that his party also believes that the amnesty should concern convicts sentenced under article 273 who are not dangerous to society. He said that people sentenced under article 276 for causing car crashes and are not dangerous to society must be released as well.
Baghaturia registered his proposal in Parliament yesterday. The bill on amnesty, a legislative initiative of the Georgian Government, will be considered at the plenary sitting next week.
Government representatives have also stated their viewpoints on this issue. Parliament Vice-Speaker Gigi Tsereteli has stated that there is a significant difference between the first and the second parts of article 260. "This is a one time decision and mostly concerns with drug users. There are some drug users who keep narcotics for private usage and some who sell them as well. The penalty for the first of these offences is not as heavy as for the second one. The second part of article 260 concerns people who sell drugs and use them at the same time," said the Vice-Speaker.
Pavle Kublashvili, the Judicial Committee head, criticised the liberal attitude taken towards substance abusers at the joint committee sitting and denied that the Government would no longer punish them. He said that if the people whose penalty will be halved commit the same offences in future they will be strictly punished. "No one should have a liberal attitude towards substance abusers in Georgia. No one uses them for a headache and these people should be punished," said Kublashvili.
After the joint committee meeting the Christian Democrats stated that bills concerning drug users should have a more systemic character. Dimitri Lortkipanidze from the party agreed with Jondi Baghaturia about the second part of article 260. "There is no serious difference between these two parts. It is not just when some of these people's penalties will be halved while others will not be released. Some additional steps should be taken in this direction, to make the bills more refined," stated Lortkipanidze.