Protecting media
By Messenger Staff
Thursday, November 5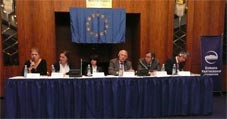 The European Union launched a project to establish a legal centre for the Georgian media on November 4. The Eurasia Partnership Foundation has begun implementing this project, called 'Strengthening the Media's Role as a Watchdog Institution in Georgia'. The project is designed to increase public access to high quality, professional, independent information through the Georgian national and regional media, strengthen the function of the Georgian Association of Regional Broadcasters (GARB) and protect journalists' rights.
At the launch Mr. George Zarubin, Eurasian Partnership Foundation representative in Georgia, and HE Per Eklund, head of the EC Delegation in Georgia, spoke about the importance of further democratic developments in Georgia.
Tamar Zurabishvili, Programme Manager of the Eurasia Partnership Foundation, spoke about the goals, objectives, activities and opportunities of the project. Tamar Gvinianidze, Chair of the Georgian Association of Regional Broadcasters, highlighted the necessity of strengthening the independent media countrywide. Tamar Gurchiani, from the Georgian Young Lawyers Association, said that the new Georgian media legal defence centre would provide legal assistance and consultations and help media outlets in the major cities of Georgia and individual journalists who have or will have problems during their performance of their duties.
The attendees of the launch, MP Giorgi Targamadze, journalists and NGO representatives welcomed this new EU-supported initiative and described it as timely and needy. In order to foster broad, inclusive dialogue on the state of the media in Georgia the Eurasia Partnership Foundation is committed to holding regular public discussions on project outputs and outcomes and developments in the Georgian media.
Presentation of Investigative Journalism Grant programme was also held.
Closing remarks were made by David Lee, Chair of Eurasia Partnership Foundation Board of Trustees.