Saakashvili visits Qatar
By Mzia Kupunia
Thursday, November 5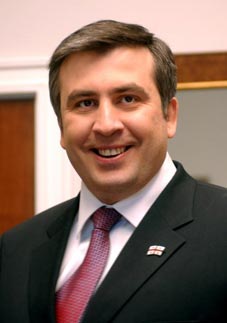 Georgian President Mikheil Saakashvili met Qatar's Prime Minister Hamed Bin Jassim bin Jaber Al Thani on Wednesday as part of his three-day visit to the State of Qatar. The sides signed an agreement on simplifying visa procedures for citizens holding diplomatic passports and discussed the details of deepening cooperation between the two countries, the Georgian President's Administration has reported.
The aim of the visit is to attract investments to Georgia, members of the delegation said. The Georgian side presented a number of possible investment projects in Georgia. "Despite the world financial crisis the Persian Gulf states are seeking a stable environment in which to invest their money. Consequently, we're doing our best to attract additional investments to Georgia," the head of the President's Administration Ekaterine Sharashidze said.
"Qatar is one of the wealthiest states in the Middle East. It makes big investments outside the country. So intensifying relations with Qatar could be beneficial for Georgia," Economic Development Minister Zurab Pololikashvili said.
Meanwhile Georgian Energy Minister Alexander Khetaguri, who is also visiting Qatar, introduced the energy potential of Georgia to members of the Qatar Energy Ministry. "We talked about building hydroelectric plants and wind plants. We introduced them to possible markets around Georgia where it is possible to sell electricity. The Qatari side expressed an interest in this issue," Khetaguri said after the meeting.
The Georgian delegation will continue its programme of official meetings with the Qatar authorities and representatives of its major companies on Thursday.