US Ambassador visits MagtiCom
By Messenger Staff
Friday, November 6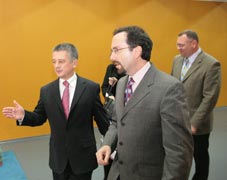 On November 5 new US Ambassador to Georgia HE John Bass visited mobile communications company MagtiCom and met the management of the company.
MagtiCom is now the most successful Georgian company created by American investments.
It is the leader in the Georgian telecommunications market with more than 2 million subscribers. Since its foundation MagtiCom has contributed more than GEL 836 million to the Georgian economy.