British war dead remembered
By Messenger Staff
Monday, November 9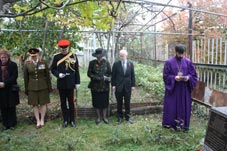 On November 8 Her Majesty's Ambassador to Georgia, His Excellency Denis Keefe, laid a wreath at the site of the British War Cemetery in Tbilisi during a short service.
Remembrance Day falls on the nearest Sunday to 11th November, the day peace was declared at the end of the First World War. The day is commemorated by church services around the world and a parade of ex service personnel in London's Whitehall. Wreaths of poppies are left at the Cenotaph, a war memorial in Whitehall built after the First World War. By tradition, at 11.00 a.m. (the time the Armistice was signed) on Remembrance Sunday and 11 November itself a two minute's silence is observed to honour those who lost their lives.
The poppy is traditionally worn on Remembrance Day in memory of service personnel who lost their lives in the First and Second World Wars and subsequent conflicts like the Falklands and Gulf War. The red poppies represent the poppies that grew in the cornfields of Flanders in the First World War, where many thousands of soldiers lost their lives. The poppy thrives on disturbed ground and was therefore one of the first plants that grew after the fighting stopped. The paper poppies worn today are made by ex service personnel and sold by representatives of the Royal British Legion, an organisation of ex servicemen and women, in order to raise funds for veterans. Poppies are on sale in the Reception of the British Embassy.
There were originally 107 Commonwealth war graves from the First World War in Georgia, of which sixty-six were in the Batumi British Military Cemetery and 39 in Tbilisi. Following the First World War the burial sites became inaccessible and the decision was taken to commemorate the casualties on the Haidar Pasha Memorial, Istanbul.
In 1996 the change in the political situation enabled the Commonwealth War Graves Commission to re-enter Georgia. It did not prove possible to locate graves but there was evidence that some of the burial areas had been maintained by the local population. To acknowledge the local interest in 2000 the Commission erected a small commemorative plaque in what was known to be the vicinity of Tbilisi British Cemetery.
The casualties buried in Georgia include members of the British Army, the Royal Navy and the Indian Army who died during the allied intervention against Bolsheviks during the period 1918 to 1920.