Tbilisi – Belarus won't recognize Abkhazia and South Ossetia
By Temuri Kiguradze
Tuesday, November 10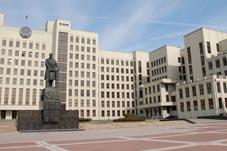 Georgian officials are sure that Belarus will not recognise the Georgian breakaway regions of Abkhazia and South Ossetia yet.
"We know that Russia puts pressure on Belarus as it does with other countries, however we [Georgia] consider that there is no threat of Belarus recognising Abkhazia and South Ossetia," stated Deputy Georgian Foreign Minster Nino Kalandadze at a briefing in Tbilisi on Monday. She added that Tbilisi has "normal relations" with Minsk and plans to conduct a meeting of Parliamentary delegations from the two countries. This statement was made in response to statements from Belarus politicians concerning the recognition of Abkhazia and South Ossetia, which Georgia considers to be parts of Georgia occupied by Russian troops.
The Council of the Chamber of Representatives of the Belarus Parliament has decided to create a working group to study the issue of recognition. Minsk has decided to send up to 10 MPs to the Georgian conflict zones to "study the situation on the ground." This visit is scheduled to take place in late November.
Georgia confirms that Belarus politicians will visit the separatist regions, however Kalandadze underlined that Minsk had asked Tbilisi for official permission to enter them and thus received a positive answer. "They [Belarus MPs] are going to visit the occupied regions [of Abkhazia and South Ossetia] in accordance with the [Georgian] law on occupied territories," underlined Kalandadze. The special Belarus commission will meet the de facto authorities of Abkhazia and South Ossetia and later speak to Deputies of the Russian Duma to get "the Russian point of view on the situation."
Abkhazia and South Ossetia asked Belarus to recognise them about a year ago, soon after the August 2008 Russian-Georgian war and Russia's recognition of them as 'independent states.' Then Belarus President Alexander Lukashenko refused to make a decision and requested that the Parliament of the country put this question on the agenda of one of its sessions; however no votes on the matter have ever been held in Minsk.
On November 4 the head of the Belarus President's Administration Vladimir Makei announced that the Parliament of Belarus would discuss the issue of recognition "next week". In September Alexander Lukashenko had said that his country's Parliament would consider the possibility of recognising Abkhazia and South Ossetia but foreign pressure on the matter, "even from our brotherly country" – an apparent reference to Russia – would be "unacceptable" for Minsk.