Regional countries agree to help each other
By Etuna Tsotniashvili
Wednesday, November 11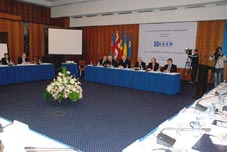 Yesterday the 4th extended session of the Parliamentary Assembly of GUAM, a regional organisation for democracy and economic development which unites 4 states – Georgia, Ukraine, Azerbaijan and Moldova – achieved certain outcomes. The two day session adopted a document on further cooperation between GUAM member states, which stipulates that they must prepare a joint strategy for cooperation in the energy sector and conduct joint activities against terrorism and international criminal groups.
Vano Khukhnaishvili, Chairman of the Georgian Parliament's Regional Development, Self Government and Mountainous Regions Committee, stated at a press conference that the GUAM Parliamentary Assembly had discussed several important issues and highlighted that the adopted document includes provisions on security issues for GUAM member countries, recognising their territorial integrity and defending international norms on the basis of this.
Khukhunaishvili also talked about the future plans of the organisation and said that one of its key aims is still the integration of its member countries with NATO and the EU. "The GUAM member states think it is very important to develop regional cooperation and we think that the GUAM Parliamentary Assembly should support processes such as the development of local government institutions. This is a very ambitious project for GUAM and we do hope that with our partners' support we will fulfil this task," Khukhnaishvili said on November 10.
The session had started on Monday, when the delegations were welcomed by Georgian Parliament Speaker Davit Bakradze, who said that GUAM member states have similar goals and interests which mainly concern security and economic development. "GUAM is an organisation of great dignity and it has proved its viability over the years. The organisation has addressed many challenges and is ready to respond to other challenges as well", stated Bakradze on November 9.
Bakradze also spoke about the Parliamentary Assembly's role and its importance for this organisation, as in this format cooperation between national Parliaments is deepening. "Parliamentary dialogue is of vital importance in achieving our common aims and ensuring that this region is one of stability and peace. We are connected at many points and I am sure that the Parliamentary Assembly will play a great role in future processes," Bakradze said.
Bakradze also noted that GUAM actively cooperates with EU countries and is ready to draw other countries into its work as well. "We are ready to listen to our partners' recommendations in order to achieve good interregional relations and the joint declaration made with the Baltic Assembly is a good example of that," Bakradze concluded.