Saakashvili criticises EU over detained teenagers
By Mzia Kupunia
Wednesday, November 11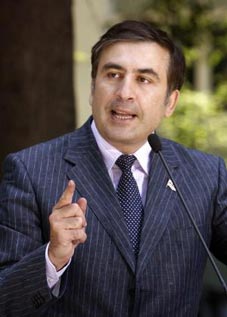 Georgian President Mikheil Saakashvili has criticised the EU and the international community for their ineffectual reaction to the detention of four Georgian teenagers in de facto South Ossetia. The President was speaking late on Monday at a meeting with the Christian Democrat members who had visited the village of Tirdznisi to meet the families of the detained.
"We need louder reactions. We saw an EU statement today but it is not enough. What does it mean when you are hosting the Russian President in Berlin as if he were a big democrat and celebrating the fall of the Berlin Wall together?" Saakashvili said, adding that he is going to have phone conversations with the US Vice President and the French President.
"We met the French Ambassador at the Foreign Ministry and requested to talk to Sarkozy, as the guarantor of the ceasefire agreement which Russia has torn up over the heads of not only Georgia but the whole international community and the European Union," the President said. "I want to raise these issues and talk to him about the provocations currently taking place," he added.
Saakashvili thanked the Christian Democrats for their "active work" on the detained teenagers' issue. He said that all political forces should combine their efforts to achieve the release of the detainees. "The Georgian Government is doing its best to free the kidnapped teenagers. They will return to their homes in the near future," he said.
The leader of the Christian Democratic Party, Giorgi Targamadze, said that there is a problem of communication between the villages in the conflict zone and the centre. He proposed creating a special crisis management centre to eliminate this problem.
Meanwhile Georgian officials have repeated their call to international organisations to take stronger steps to free the detained teenagers. Deputy Foreign Minister Alexander Nalbandov met the Deputy Head of the EUMM Gilles Janvier on November 9. Nalbandov urged the EUMM representative to take all possible measures in this direction. "The sides have agreed to carry on consultation and cooperation on this issue," the Foreign Ministry Press Service reported. In the next few days the Council of European Commissioner for Human Rights Thomas Hammarberg will visit Georgia, the news agency
Regnum
has reported. Hammarberg will get involved in the process of securing the release of the detained Georgian teenagers as requested by the Georgian Government, the agency reported.
Four Georgian teenagers between the ages of 14 and 17, Giorgi Romelashvili, Aleko Sabadze, Viktor Buchukuri and Levan Khmiadashvili, were detained by the de facto South Ossetian regime's militia on November 4. They were charged with illegal possession of arms and illegal "border crossing". The de facto regime's officials have said they will be brought to court, however no exact date for this court hearing has yet been given. The detainees have denied the charges against them, South Ossetian news agencies have reported.