New factory opened in Kareli region
By Etuna Tsotniashvili
Thursday, November 12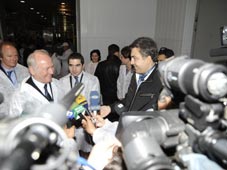 The world's largest baby food producing company, Hippy, has opened a factory in the Kareli region village of Agara. The factory, which will export its production to Germany, will be able to process 300 tonnes of apples a day and around 200 local people are employed there. This factory will purchase half the apple resources in Georgia and Georgian farmers will not therefore have any further problem selling their apples.
The opening of the factory on November 10 was attended by President Saakashvili, who said that the Government had allocated funds for the factory a while ago but the money had been embezzled. However, the German investor had done everything necessary to ensure that the enterprise was opened so the Government ultimately did not need to give it money. "Building this factory was stalled for several years, because although the State did its best by giving money and credit, all this was wasted," Saakashvili said.
The President said the factory was equipped with modern equipment and provided all the conditions to make products of superior quality. He also recalled the time when he arranged to meet the owner of HiPP GmbH & Co. Vertrieb KG, Claus Hipp, at a restaurant in Tbilisi in March in order to discuss investment opportunities but their meeting was disrupted by opposition protestors rallying outside the restaurant
"Just at this time our respected opposition came, although a real opposition would never do such a thing. For 45 minutes of our 50 minute conversation they shouted through loudspeakers, obstructing our conversation. If this man [Hipp] were less of a human being this factory would not exist and the apples would not have been sold, as he would have run away from here, which is exactly what they [the protestors] wanted… But this man did not run away, because he quickly figured out what was happening," the President stated, adding that there are people who want everything to be developed and people to be employed and there are others who have everything themselves but want others to be badly off, who have not achieved this in this case.
The company purchased the factory after it was auctioned by the Georgian Government in April, 2009. Previously it was owned by businessman Gocha Dzasokhov, who left for Russia after coming into conflict with the Georgian authorities.