Democracy - coming to a school near you
By Gvantsa Gabekhadze
Thursday, November 12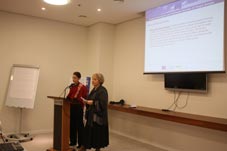 The presentation of a new project calls Democracy Starts With You was held at the Radisson SAS Iveria Hotel on November 10. It was organised by the Tbilisi Political Studies School, the Baku and Erevan Political Studies Schools and representatives from the Eduardo Frei Foundation from Holland. The project's main aim is to develop democratic principles in Georgia, Armenia and Azerbaijan through school teachers and pupils actively participating in democratic structures. The project is co-financed by the European Union.
Leader of the Konrad Adenauer Foundation and instructor of the project Katia Christina Plate explained why this initiative is so important for improving the democratic development situation in the South Caucasus region. She said that these three countries had been the part of the former Soviet Union and after its destruction had chosen the democratic way of development. This means that political figures, parties or deputes are appointed through elections, but achieving this system change is very complicated and that is why the development of democracy is still going on in the region. There are some serious problems with electoral systems, media freedom, judicial systems and so on.
Governments should have a close relationship with their people and must be responsible for their citizens' security and progress. Unfortunately obstacles exist in these directions as well. Improving only these conditions is not enough to create a democracy, but each citizen should play a part in this process and the project's main aim is to involve schools and pupils in the project so that they achieve a better understanding of democratic goals and values.
"The best place in which to start training people to think in this way is a school. Teachers should be politically educated and share their knowledge with their pupils so young people can be more independent, active and creative in the future. This is a three year project in which 180 teachers and 60 schools will be involved from all three countries. 20 schools will be selected from Georgia. The teachers will be taught the methodology of how they can encourage pupils to be more communicable and free to make decisions based on democratic principles. From all 60 schools 5,400 pupils will take part in this project," Plate stated, adding that South Caucasus children should actively participate in discussions and decision-making concerning their region's political, economic, social and other problems.
The project initiators will help pupils form a regional Parliament, where they will concretely discuss regional problems and try to find ways to resolve them. The best delegates from the regional Parliament will be sent to Brussels, where they will be able to illustrate regional problems before a wider audience and obtain assistance from developed European countries.
Plate added that 226 young politicians from the political parties' youth branches will also be involved in the project. They will take part in political studies which will help them inform their friends, colleagues or other young people about political life and democratic structures.
The project is being co-financed by the EU and its budget is Euro 1.8 million. The project initiators stated that no official programme exists yet and they are going to collaborate with the European Parliament, European Commission, relevant Ministries of Education and experts to formulate a corresponding programme. The European Commission's representative, Oliver Raisen, suggested that he has had experience of working in this direction: "This is a very important project; the people will take part in building democracy. I was one of the organisers of a similar project in Samtskhe-Javakheti and Kvemo-Kartli and the Commission will help the project initiators formulate a successful programme. I am also aware that education reform is taking place in Georgia and I am sure that the Ministry of Education will be interested in this project," stated Raisen.
Plate told
The Messenger
at the end of the meeting that at the present moment broadcasting information about the project is very important. "Society will be informed about what is going on and what kind of project this is to arouse public interest. We need creative and interesting ideas, some concrete information from higher institutions like the Ministry of Education, other political or non-political institutions and ordinary citizens, to make the project successful," said Plate.