Georgia asks UNICEF to help free detained teenagers
By Mzia Kupunia
Friday, November 13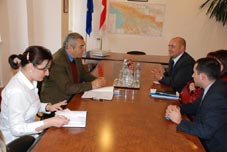 The Georgian Parliament has asked UNICEF to get more actively involved in securing the release of the four Georgian teenagers detained on November 4 by the de facto South Ossetian militia. The head of the Parliamentary Commission on Human Rights, Gia Arsenishvili, met representatives of the organisation on Thursday. "UNICEF's involvement in this problem would be especially valuable," Arsenishvili told UNICEF Georgia Deputy Representative Benjamin Perks. "You have strong authority and influence," he added.
The situation is very tense not only for the families of the detained but also the whole of Georgia, Perks said. "We will take your request into account and do our best within the terms of our mandate. We will consult with the central office of our organisation on this issue," he stated, adding that the fact that UNICEF has no access to South Ossetia or Abkhazia creates some problems.
Speaking with journalists after the meeting, Arsenishvili said UNICEF lacks some "concrete levers". "However UN regulations say that it is inadmissible to use children to further political ends in conflict and post-conflict territories," Arsenishvili noted. "I hope the UN will influence its member state, Russia, and demand that it obeys UN regulations," he added.
On Thursday locals in the village of Tirdznisi reported that the health conditions of the three teenagers detained in Tskhinvali had worsened. "The children have a cold. One of them, Viktor Buchukuri, had a poor health condition to begin with and we are afraid his condition might be even worse now," Tirdznisi School Director Kakha Kakhiashvili said.
Meanwhile the Movement for United Georgia has said that it possesses some "positive" information about the detained teenagers. However leader of the movement Zurab Noghaideli refrained from giving more details. "I asked the head of the Georgian People's Assembly, Gocha Dzasokhov, to intervene. He has talked with officials in Moscow and Tskhinvali and the information he has given me raises some hope," Noghaideli said at a press conference.
The August 7 Movement has called on international organisations to try and secure the release of the detained teenagers. "They have been held in illegal captivity by a criminal regime for nine days already. The real reason for their detention is that they are Georgian citizens," a statement issued by the movement says.
Georgian officials have laid responsibility for "kidnapping" the Georgian teenagers on Russia. "International pressure should be imposed on the Russian Government and not on the Tskhinvali separatist regime," Parliament Speaker David Bakradze said. "Russian border guards control the so-called border in South Ossetia and the de facto republic is controlled by Russian soldiers," he said yesterday.