French businessmen in Georgia
By Messenger Staff
Tuesday, November 17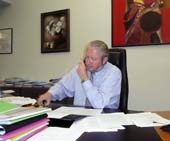 A delegation of French businessmen representing the largest employers association in France, MEDEF, is visiting Tbilisi at present. The French businessmen will meet members of the Georgian business community.
Having arrived on 16 November the delegation will spend the whole of November 17 in Tbilisi and leave for Baku the next day. The trip has been organised by French Ambassador to Georgia HE Eric Fournier. Representatives of twenty different companies in the fields of transport, energy, services, financing, infrastructure, healthcare and other branches are visiting Georgia.
The French Business Council will also join the delegation, whose members will visit different Ministries and eventually meet Prime Minister Nika Gilauri this evening. There will also be some bilateral meetings because some of the French guests have already established contacts with Georgian counterparts. A similar delegation visited Tbilisi 3 years ago, in 2006.
There are already certain French investments in Georgia. Societe Generale invested in and eventually purchased Bank Republic, Pierno Ricard has purchased the GWS wine producing corporation and Castel has established a brewery in Tbilisi.
President of the French Business Council Gilbert Hie told
The Messenger
that he is optimistic about the visit of the French businessmen to Georgia and hopes that some viable results will emerge from this visit for the mutual benefit of both sides.
The French Business Council promotes Georgia in France and visa versa. Hie thinks that it is of vital importance at this difficult time to support Georgia, in particular in helping it recover from economic crisis as soon as possible. Gilbert Hie thinks that some signs of recovery could become visible from 2010 but the impact of the crisis will last throughout 2010 and complete recovery will start in 2011.
The French Business Council is a non-governmental organisation created to facilitate further deep cooperation between businesses in France and Georgia. It promotes partnership, exchange of economic and statistical data, consultations with prospective investors, establishing commercial relationships, sponsoring different projects and so on. More than 50 companies from both countries are already the members of this organisation and Gilbert Hie, the CEO of Bank Republic, (a member of the Societe Generale group in Georgia) is the President of the organisation.