H1N1 is not as bad as all that, says Disease Control Centre
By Londa Mindiashvili
Tuesday, November 17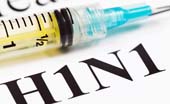 65 cases of the H1N1 virus have been confirmed in Georgia so far. The disease has mainly affected children and adolescents. Representatives of the National Centre of Disease Control say that 95 percent of those infected caught the virus abroad and only two in Georgia.
Director of the Municipal Department of Social Services and Culture Mamuka Katsarava says that the condition of all the patients is satisfactory and on the basis of the facts and statistics available panic is absolutely groundless. "The H1 virus is a genotype of flu which always circulates in the nature, but the H1N1 variety is less aggressive and has fewer complications than H1N2 or H1N3. So there are no grounds for panic in the country, however, there is a high public interest in this virus," Katsarava stated on Imedi TV.
Katsarava also explained that there is no need to suspend classes or shut down offices yet. However if epidemiologists consider this is inevitable the Government will do it immediately. This will happen however only if 50 percent of schoolchildren or employees of an organisation are infected. He calls on the population to keep away from infected people and use preventive medicines, including Vitamin C, which can combat the disease very effectively. Katsarava highlighted that all medical institutions are ready to receive patients and have enough of all the necessary medicines, including Tamiflu.
Representatives of the National Centre for Disease Control do not exclude that the number of infections will increase because the H1N1 virus is more easily passed on than other viruses and there is always a seasonal increase in influenza cases. Epidemiologists suppose that the virus will hit its peak in Georgia in December and January. The disease control and public healthcare centres will continue to monitor the flu viruses in the country, although laboratory testing for the H1N1 virus will no longer be obligatory.
Director of the disease control centre Paata Imnadze says that it is essential for patients to consult a doctor if they show symptoms of the H1N1 virus. "Laboratory testing will be undertaken if a patient wants it, but this is not obligatory. We will simply identify which strain of flu it is in this way," Imnadze stated.