Saakashvili meets ruling party MPs
By Mzia Kupunia
Tuesday, November 17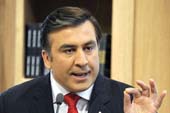 Georgian President Mikheil Saakashvili met the Parliamentary majority on Monday and discussed internal and foreign policy issues. MPs said after the closed-door meeting that the main topics of discussion had been simplifying visa procedures with the EU, liberalising the Georgian economy and holding local elections.
"Negotiations about simplifying the visa regime with the European Union are in their final stages and the public will soon hear more about this," MP from the ruling National Movement Party Pavle Kublashvili said.
MP Gia Khukhunaishvili told journalists that the ruling party is getting ready for the local elections. "We discussed how ready we are for the elections and what work should be undertaken. We talked about general issues," he said. According to Khukhunahsivili nothing was said at the meeting about new candidates for the CEC Chairmanship.
Parliament Vice-Speaker Gigi Tsereteli said that President's new economic proposals and infrastructure projects were also discussed. "The President talked about a further liberalisation of business activity in Georgia. Some specific steps towards implementing the economic amendments package proposed by President Saakashvili are also planned," Tsereteli said. The President did not make any comment for media after the meeting.
Meanwhile at the Parliament Bureau session on Monday three economic initiatives suggested by Saakashvili on November 11 were discussed. Chairman of the Parliamentary Committee for Budget and Finance Zurab Melikishvili said that the MPs discussed allocating an additional GEL 35 million for "immediately" repaying Value Added Tax to businessmen. The proposal was one of the new initiatives voiced by the President at a Government session in the Lopota resort, Kakheti region, last Thursday. The others were to involve representatives of private business in the Tax Disputes Council, in order to make council decisions "more transparent", and give the right to make decisions to seal companies for more than 48 hours to the Finance Minister, removing them from lower-level institutions. "This will significantly decrease the number of sealed companies," he told Cabinet members in Lopota.