Vocational training programme to open in Gori
By Etuna Tsotniashvili
Wednesday, November 18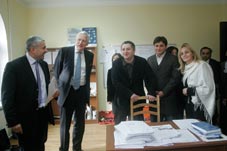 As part of the EU-funded initiative "Early Recovery Efforts in Georgia" being implemented by the UN Development Programme, a newly rehabilitated building at Gori University was opened on November 17. Gori University will be providing vocational education and re-training in the areas of construction, food processing and agriculture.
Speaking at the opening ceremony Head of the EC Delegation to Georgia Ambassador Per Eklund stated that the European Union continues to assist Georgia in its efforts to recover from last year's crisis. "Vocational education provides better opportunities for people who lost a source of income and those looking for better jobs," the Ambassador said, adding that this is a good educational institution and a good facility for Gori and Shida Kartli and the lessons learned from this project can be applied in other similar institutions all over Georgia.
Deputy Head of UNDP Inita Paulovica highlighted that Gori University is a unique place where people of all ages can be trained. "Thanks to the EC/UNDP joint "Early Recovery Efforts" initiative, the University of Gori can offer theoretical and practical training in a range of professions. It is the only educational institution in Georgia that provides training for work in the milk processing industry," she said, adding that she hopes that its graduates will be able to find jobs and thus be able to earn more money, and as result will be empowered to achieve increased living standards.
As Paulovica told
The Messenger
, the results of labour market research undertaken to try and find out what the specific issues in this region were, because each region is different, have helped the project identify what professions are most demanded and the programme has been adjusted in line with this information. "This project will be unique because not only have we developed the curriculum we have also developed training materials and we will be able to use these not only here in Gori but in other projects. I want each place of education to have something special that they can show practically," Paulovica said.
Nika Gvaramia, the Minister of Education who also attended the opening ceremony, handed certificates to the 32 teachers who have been trained to work there together with foreign guests. At the presentation he emphasised that higher education is not decisive in achieving success and finding a good job but vocational education is quite sufficient and the quickest way to get employed. "We are very happy that a new vocational education centre has been opened today with excellent infrastructure and modern text books. Here we see retrained teachers and the results of their efforts will soon show," Gvaramia said.
The opening ceremony was hosted by Rector of Gori University Zaza Tsotniashvili, who welcomed the guests and thanked them for all their contribution to this project. He said that this was a historic day in the University's life as a very important project had been carried out which will further support the university's development in future. "Our residents can participate in vocational education and retraining in different fields at our university and improve their skills and career prospects according to labour market demand in Georgia today," he said.
Vakhtang Kapanadze, 56, a welder; was among those given a certificate yesterday. Having lost his job recently, as soon as he heard about this programme he decided to apply and conduct retraining courses in this field. Now he will be employed by this project and teach students his subject and share his knowledge with them.
UNDP has been providing support for the development of vocational education in Georgia since 2006. In cooperation with the Ministry of Education and Science, the UNDP has organised professional retraining programmes in more than 30 professions at Vocational Education and Training centres in Kachreti, Akhaltsikhe, Telavi, Ambrolauri and Batumi.
A very intense policy dialogue about Vocational Education between the European Commission and the Georgian Government is in its final stages. The EC will be supporting the implementation of the Government's Strategy for Vocational Education in 2009-2012. The total budget of the support programme is Euro 19 million, of which Euro 17 million will be used as direct support for the budget and Euro 2 million as technical assistance.
The joint EC/UNDP initiative in Gori is a response to the August 2008 war, which severely affected livelihoods in or close to the conflict areas. It is designed to provide more income generation opportunities and encourage economic recovery and development in the region. The initiative is part of the programme for early recovery which UNDP is implementing with Euro 4.4 million of EU funding.