Georgia calls on Strasbourg to demand release of Georgian teenagers
By Mzia Kupunia
Wednesday, November 18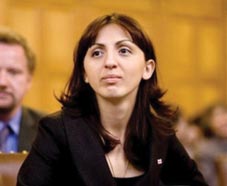 Georgia has demanded from the Strasbourg Court of Human Rights that it push Russia to release the four detained Georgian teenagers, the Georgian Justice Ministry reported on Tuesday "We asked the Strasbourg Court to oblige Russia to immediately release the teenagers detained in de facto South Ossetia," Deputy Justice Minister Tina Burjaliani said.
The move followed repeated calls by Tbilisi for the de facto authorities and the Russian occupiers to release the 4 underage citizens of Georgia detained on November 4 at the village of Tirdznisi, close to the administrative border with the de facto republic. The Council of Europe has also expressed concern over the "prolonged detention" of the detainees. "Nowhere in Europe should teenagers be detained as a result of political and security issues," its statement issued on November 16 reads.
The de facto authorities have said that the so-called South Ossetian Prosecutor's Office will decide on the measure of punishment for the detainees, who are charged with illegal border crossing and weapon possession. "This issue will be discussed in a special session at the Prosecutor's Office, however it will not be a court session," Merab Chigoev, the de facto 'Deputy Representative of the South Ossetian President in Post-conflict Regulation Issues' said on Monday.
According to Chigoev the teenagers are being held in normal conditions. "No physical or psychological pressure is being imposed on them," he said. However, the Georgian Foreign Ministry has said that the health of the detained teenagers is "very bad". The Red Cross is trying to provide medicine for the children in Tskhinvali jail, Deputy Foreign Minister Nino Kalandadze said.
The Red Cross, which is currently the only organisation with access to the Georgian detainees in Tskhinvali, brought letters written by the teenagers to their families on Monday. "These letters were presumably checked many times before handed to the Red Cross representatives," Tirdznisi School Director Kakha Kakhiashvili said. "The children write that they feel good and miss their families and village," he added.
Georgian State Minister for Reintegration Temur Iakobashvili reiterated the Georgian Government's call for Russia to free the underage Georgian prisoners. "Nobody has any illusion that Russia is not in control of the situation in the occupied regions. Russia is responsible for every event which takes place there," the Minister noted.
"The sooner Moscow frees the teenagers, the better for Russia," he said. "We demand the unconditional release of the children, and then we will take care of their health ourselves," Iakobashvili stated.